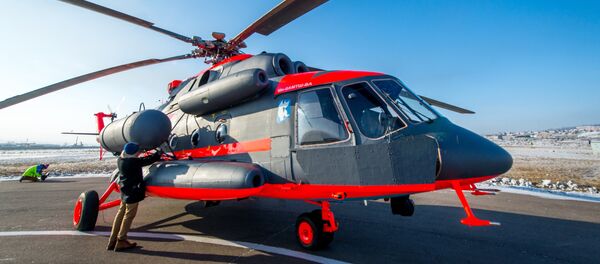 25 November 2015, 11:21 GMT
ULAN-UDE (Sputnik)
–
Earlier in the day, the Russian Defense Ministry received its first Mi-8AMTSh-VA, a modified version of the Mi-8 medium twin-turbine transport helicopter. The aircraft is based on an upgraded Mi-8AMTSh-V with improved turboshaft engines and upgrades to its avionics.
"Foreign customers are also interested in this helicopter," Leonid Belykh from the Ulan-Ude Aviation Plant, belonging to the Russian Helicopters company, told reporters.
Potential contracts for deliveries of a new Arctic helicopter will depend on test results in Russia's Far North, he added.
The Russian Mi-8AMTSh-VA can fly up to 1,000 miles without refueling. It has high-altitude navigation, as well as the capability to fly in adverse weather conditions day and night.