BISHKEK (Sputnik) – Kyrgyzstan's law enforcement agencies have uncovered over 200 cases in 2015 in which citizens of the country were recruited for military activities abroad, Stalbek Rakhmanov, a representative of the Kyrgyz Interior Ministry, said Wednesday.
Earlier in November, Kyrgyz Prosecutor General Indira Joldubayeva said that around 500 Kyrgyz citizens, including 122 women, were in Syria and Iraq in the ranks of local terrorist groups.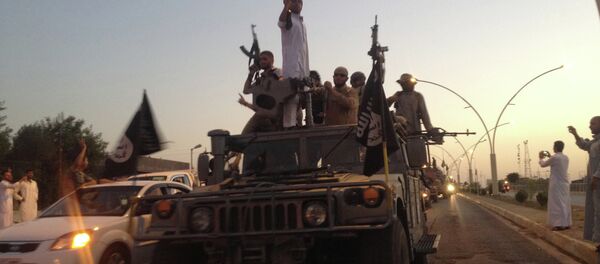 11 November 2015, 14:35 GMT
"In the result of investigative work for 10 months of 2015, internal affairs agencies have uncovered 209 cases of recruitment and departure of our citizens into areas of combat operation," Rakhmanov told reporters.
He noted that the country's interior ministry was planning to implement a law that would allow citizenship to be revoked for joining terrorist groups.
"Now the issue is being discussed. Those who travel to kill on foreign land should understand that this is a one-way ticket," Rakhmanov said.
From the beginning of 2015, Kyrgyz authorities have uncovered over 300 cases of extremism, and detained some 239 people, according to the Interior Ministry.