MOSCOW (Sputnik) — According to the official, cited by Reuters Tuesday, the incident happened after "a brief incursion" of the Russian jet into the Turkish airspace.
The assessment was carried out based on aircraft heat signature detection, he added.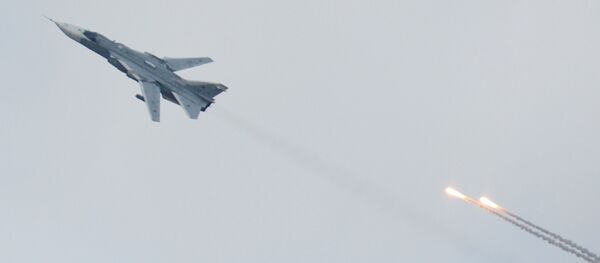 24 November 2015, 17:56 GMT
On Tuesday, a Russian Su-24 jet crashed in Syria. Russian President Vladimir Putin said that the plane was downed by an air-to-air missile launched by the Turkish F-16 jet over Syrian territory, and fell 4 kilometers (2.5 miles) from the Turkish border.
One of two Su-24 pilots was killed by fire from the ground after ejecting from the plane and a Russian naval infantry soldier was killed during the rescue operation.
Turkish President Recep Tayyip Erdogan said that Turkey acted in line with its sovereign right to respond to threats, claiming that the Russian jet had violated Turkish airspace.
Putin described the Turkish attack as a "stab in the back" carried out by "accomplices of terrorists."