MOSCOW (Sputnik) — Earlier in the day, a RIA Novosti correspondent reported that Russia has delivered its S-400 missile defense system to its air base near Syria's Latakia.
"Today, in accordance with a decision by the Supreme Commander of the Russian Armed Forces, an S-400 air defense system was promptly delivered and deployed on combat duty at the Hmeymim air base in Syria," ministry's spokesman Maj. Gen. Igor Konashenkov said.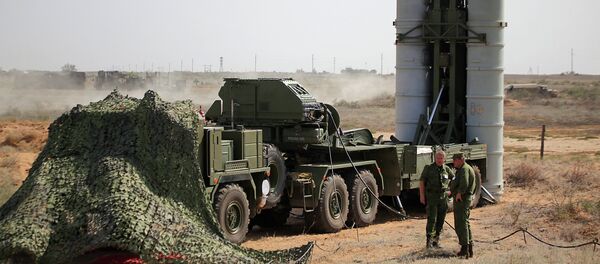 26 November 2015, 06:12 GMT
On Wednesday, Russian President Vladimir Putin approved the Defense Ministry's request to deploy the S-400 Triumf (SA-21 Growler) at the airbase in order to protect Russia's Aerospace Forces operating in Syria.
The decision was made after Turkish fighter jets had shot down a Russian Su-24 bomber, which had been taking part in Russia's anti-terror campaign in Syria.
Russian President Vladimir Putin described the incident as a "stab in the back, carried out against us by accomplices of terrorists."
© Sputnik
The S-400 Triumf Mobile Multiple Anti-Aircraft Missile System (AAMS)

The S-400 Triumf Mobile Multiple Anti-Aircraft Missile System (AAMS)