He added that the downing of the Russian bomber was an "automatic reaction" in line with a standing order given to country's military, while the Kremlin's reaction was "emotional and unfitting of politicians".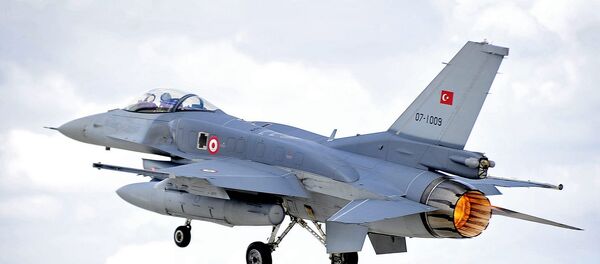 26 November 2015, 18:01 GMT
Earlier, on Thursday Russia's President Vladimir Putin said that there were "certain countries that covered and continue to cover terrorists".
Putin also stressed that Ankara's recent actions were completely unexplainable, adding that the Turkish government seems to be deliberately pushing relations between the countries into a deadlock.
Following President Putin's statement, Russia's Prime Minister Dmitry Medvedev announced that Moscow will respond with diplomatic and military measures over the Su-24 incident. In particular, he noted that Moscow is considering the introduction of bans on the activities of Turkish companies' in Russia.
Political analyst and Israeli publicist Avigdor Eskin spoke to Sputnik about the incident.
"Turkey today is the only country which supports ISIL openly and if someone questions what I just said let them see what is happening with ISIS. It all goes through Turkey. They sell their oil through Turkey and if Turkey wanted it to stop they would have stopped it. There are volunteers that came to fight for ISIL from different parts of the world. How did they end up in Syria? They all landed in Turkey and went to Syria. Again Turkey could have stopped it."
Regarding the Russian Su-24 bomber, "The issue is not that maybe the Russian plane went through the Turkish territory for three seconds or so, that is not the issue as first of all we don't know that they violated by mistake. There was a plan to shoot down Russian plane to show who is in charge and it really reveals some very ill Turkish desires to rebuild their empire. They perceive these territories as their own territories."
"This is what they want from this war and from Assad's regime. They want to take over some of these territories. Turkey needs to be stopped and I am sure it will be stopped because other NATO countries are not interested in any confrontation with Russia."
Talking about the current Turkish government, Eskin said that the problem with Erdogan and his government is that they derive from the Muslim Brotherhood and their ideological core is terrorism and extremism. This organization is outlawed in Russia and in many other countries, even in Egypt.
"When we deal with this ideology we cannot expect anything but more trouble. However, there are some very wise people in Turkey who see the situation differently than their president," Eskin said.
I hope that Russia gets the support as the international community needs to understand the position of Russia in this case.