MOSCOW (Sputnik) — The German police do not have resources to locate nearly 250,000 migrants illegally staying in the country, the German police union chief said Friday.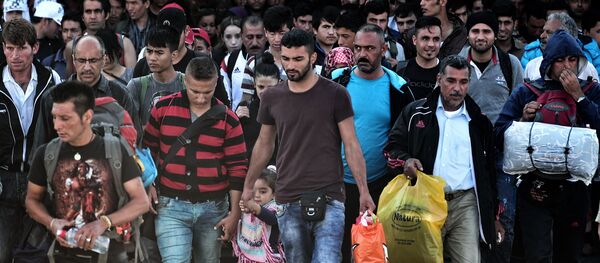 27 November 2015, 08:04 GMT
"These people are currently illegally staying in Germany. We will not look for them. The police do not have extra resources and personnel to conduct this search. It is not a police duty at all," Rainer Wendt told journalists.
Earlier, German media reported, citing the Interior Ministry, that between 200,000 and 300,000 refugees who arrived to German soil did not apply to migration services to legalize their status.
According to Wendt, it is normal that crime rates in Germany increase if migrant inflow rises.
"If nearly one million people are coming to us, the crime rate is bound to grow a bit. It is normal. It is expected to be so, even if absolutely normal people arrive," Wendt said.
The European Union is struggling to manage a massive refugee crisis, with hundreds of thousands of people leaving conflict-torn countries in the Middle East and North Africa for Europe.
Germany expects over a million refugees during the course of 2015, according to German Chancellor Angela Merkel, with more than 950,000 refugees reportedly registered in the country since the beginning of 2015.