Many lawmakers, including some from his own Conservative party, have raised questions over how Cameron reached the "magical" number of 70,000, with increased calls for any potential British involvement in Syria to back the ground forces of Syrian President Bashar al-Assad.
The "70,000" moderate Syrian fighters on the ground seem as substantial as Iraqi WMD did a decade a go. A mirage in the desert.

— David Allen Green (@DavidAllenGreen) November 27, 2015​
Julian Lewis, senior Conservative MP and chairman of the Defense Committee said he was "extremely surprised" to hear Mr Cameron claim there were "about 70,000 Syrian opposition fighters on the ground who do not belong to extremist groups."
'The existence of 70k adequate ground forces is a revelation to me and I suspect to many others in this House,' — Julian Lewis MP #Syria

— Angus Robertson (@AngusRobertson) November 26, 2015​
It's understood Mr Lewis will table a question to the House of Commons demanding clarification from the prime minister.
According to Cameron's spokesperson, the 70,000 figure is based on "best intelligence and analysis we have."
"The figure was provided to him by the Joint Intelligence Committee; they provided that intelligence and analysis independent of the Government. That's the best advice we've received; we've no reason to doubt it in anyway. He [the Prime Minister] obviously felt comfortable with the analysis provided to him."
'Where Are These Magical 70,000 People?'
Despite Cameron's claims that there is a 70,000-strong force of anti-Assad, anti-extremist fighters in the country, many have raised questions over the figure amid concerns any attempts to support opposition forces on the ground may end up benefiting jihadists.
My old chum Dr. Julian Lewis seems one of the few parliamentarians who understand the Syrian problem, which is why no one will listen.

— Godfrey Bloom (@goddersbloom) November 26, 2015​
MP Lewis told Sky News:
"Where are these magical 70,000 people and if they are there fighting, how come they haven't been able to roll back ISIL/Daesh? Is it that they're in the wrong place? Is it that they're fighting each other? Or is it that in reality they're not all that moderate and that there are a lot of jihadists among them?
"I think we really need to know about this so that we don't look back on this moment as having made a big mistake on the base of misleading information that was given not by the Prime Minister but to the Prime Minister. 
"The Prime Minister has conceded that air strikes alone cannot be decisive in taking on ISIL/Daesh, unless they are supported by credible ground forces. So, the only missing element is the credible ground forces." 
Fears of US 'Train and Equip' Failure
The concern over supporting questionable ground forces in Syria follows the US' failed US$500 million program aimed at training and arming 5,000 "moderate" Syrian rebels.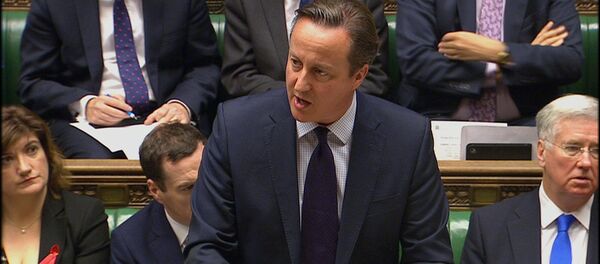 27 November 2015, 11:45 GMT
Washington announced it was abandoning the plan after noting it was "a more difficult endeavor than we assumed" to build a ground force capable of fighting ISIL from scratch.
Despite US plans to train 5,000 fighters, only about 100 were eventually deployed to fight in Syria, with General Lloyd Austin, commander of US Central Command, embarrassingly admitting in September that only about "four or five" soldiers were still fighting in Syria.
In a further indictment of the strategy, reports also surfaced suggesting some of the fighters trained and armed by the US were linked to, or shared weapons with hard-line Islamist groups like the al-Qaeda affiliated Jabhat al-Nusra.
The concerns over the legitimacy of the alleged 70,000 fighters led Conservative MP Lewis to call for any potential British intervention to work with Syrian government forces in the fight against ISIL.
"The reality is if you want to defeat ISIL/Daesh, you need to have the regular Syrian army as part of the force that's going to do it and that's where the prime minister has a sticking point but he still can't bring himself to forge an alliance with the Russians…"