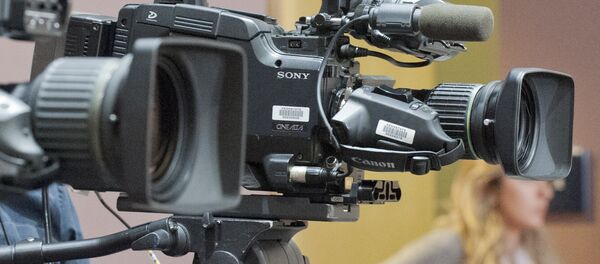 27 November 2015, 22:02 GMT
MOSCOW (Sputnik) — On Thursday, Cumhuriyet newspaper Editor-in-Chief Can Dundar and the daily's Ankara representative Erdem Gul were arrested on charges of espionage and treason after the outlet published photos of Turkish intelligence trucks carrying weapons bound for Syria and a news report about the delivery in May. Domestic and international press institutions and political figures have condemned the arrest.
"We sincerely hope that the meeting [on Sunday] produces a lasting solution to this problem [of migration]. We would also like to hope that your desire to end the crisis will not stand in the way of your sensitivity towards human rights, freedom of press and expression as fundamental values of the Western world," the two journalists said in a letter to the EU leaders, as quoted by the Hurriyet newspaper.
According to the letter, Turkey's Prime Minister Ahmet Davutoglu and "the regime he represents are known for their policies and practices that flout human rights and freedom of the press."
"We remind you that our common values can only be protected by a common stand and solidarity, and this solidarity is both vital and urgent," the letter added.
Amid a major migrant crisis unraveling in Europe, Turkey is a key transit country for thousands of refugees fleeing conflicts in Syria and elsewhere in the Middle East.
In October, EU leaders agreed to provide $3.4 billion in financial aid to Turkey and activate the process of establishing visa-free EU travel for Turkish citizens. In return, Ankara pledged to do its best to curb the influx of asylum seekers crossing its borders to reach Europe.