General Sir Richard Shirreff, former NATO Deputy Supreme Allied Commander Europe, has poured cold water on Cameron's plans to carry out military airstrikes on Daesh — also known as ISIL — in Syria, arguing that his plans would have little or no impact on the current campaign.
Mr Shirreff was skeptical of Cameron's claims that there was 70,000 "moderate" rebel fighters on the ground in Syria capable of benefiting from British airstrikes against Daesh, arguing that the West would eventually need to put boots on the ground in Syria to take the group's de-facto capital of Raqqa.
"It's not something you are going to achieve with 70,000 so-called Syrian moderates," he said.
"To take a city of 350,000 is going to need a massive force. Any fighting in cities soaks up troops in a massive way. It's very heavily attritional, it's bloody and it's a grim business."
Growing Skepticism Over Syria Strikes
The comments come amid increased skepticism of Cameron's plan to join the fray in Syria, with critics arguing that British airstrikes will not defeat Daesh, will not make Britain less susceptible to airstrikes and will not help in creating an alternate political solution for long-term peace in Syria.
A poll over the weekend, conducted by Survation, found that the majority of the general public did not support bombing Daesh in Syria, with 59 percent disagreeing with the prime minister and saying that they believed taking part in the raids would actually increase the terror threat in Britain.
Thousands of people also took to the streets of Britain over the weekend to protest against the planned airstrikes.
PM: There is a clear & present danger to UK from ISIL based in Iraq & Syria. We can deliver a clear long-term strategy that can work #PMQs

— No. 10 Press Office (@Number10press) November 25, 2015​
4,000 people gathered outside the prime minister's residence at 10 Downing Street in London, while similar demonstrations were held in a number of other UK cities.
Labour Could Hold the Key to Airstrikes Decision
Significant opposition is also coming from the opposition Labour party, with leader Jeremy Corbyn firmly against the UK conducting airstrikes in the country.
Corbyn says that airstrikes will simply lead to more civilian deaths and create more refugees in Syria, arguing that Cameron hasn't made a compelling case that intervention will actually benefit the country in the long-term.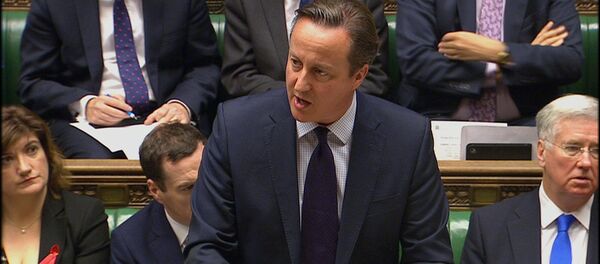 27 November 2015, 11:45 GMT
However, the Labour party is deeply divided on the issue, with many MPs, including deputy leader Tom Watson and Shadow Foreign Minister Hilary Benn saying they would support the PM's call for action in Syria.
Currently the party is engaging in further debate about what Labour's stance on Daesh airstrikes in Syria. However, if Corbyn gets his way and encourages Labour MPs to vote against action, it may prevent Cameron from holding a vote on the matter in the House of Commons.
Labour's decision could prove crucial as a number of Cameron's own Conservative MPs are expected to vote against the prime minister on Syrian intervention.
Still scarred by his embarrassing political defeat in the Commons over Syria intervention in 2013, Cameron has said that he will only pursue a vote if there is a general political consensus on the issue, with Labour's potential opposition, along with that of the Scottish National Party (SNP) and the Liberal-Democrats potentially throwing a spanner in the works.