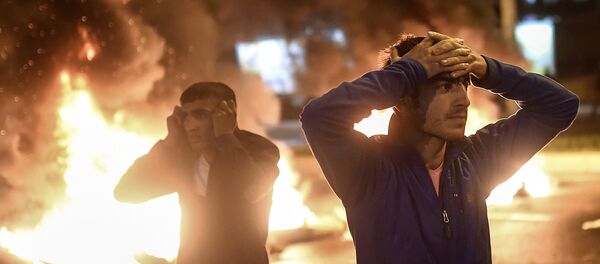 1 November 2015, 19:41 GMT
MOSCOW (Sputnik)
–
An RT broadcaster reporter fell victim to a tear gas attack by Turkish police during Kurd protests against the killing of a prominent Kurdish lawyer in the country's southeastern Diyarbakir province, media reported Monday.
"As soon as we arrived here there was a very tense situation and there were security forces out in full force in the streets with guns and we heard gunshots," RT correspondent William Whiteman said as quoted by the TV channel.
He added that his crew barely escaped the tear gas attack.
People took to the streets of Diyarbakir city on Saturday, several hours after Tahir Elci, a bar association president in the Diyarbakir province and campaigner for Kurdish rights, was killed in a shooting that broke out when he was making a press statement.
Violence in Turkey escalated in July, when the Turkish government launched a military campaign against the Kurdistan Workers' Party (PKK).