MOSCOW (Sputnik) — Bilateral talks on the construction of a major Russian-Turkish gas pipeline and Turkey's first nuclear power plant halted on Tuesday after Moscow slapped Ankara with a batch of economic restrictions, a source familiar with the situation said.
"Negotiations on the projects have been suspended," the source told RIA Novosti. "Of course, Russia's restrictive measures against Turkey do not affect current gas deliveries from Russia to Turkey. They will be carried out in compliance with existing contracts."
The Turkish Stream gas pipeline, with a capacity of 63 billion cubic meters a year, was announced last December. Russian and Turkish energy ministries were also working to build a nuclear power plant in the town of Akkuyu, in southern Turkey.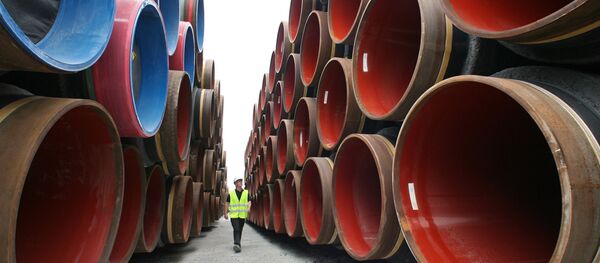 1 December 2015, 16:51 GMT
Earlier on Tuesday, the Russian government backed a proposal by President Vladimir Putin to impose economic restrictions against Turkey due to security concerns.
The measures did not target construction projects that were agreed before the restrictions came into force, but the work of the Russian-Turkish Commission on Trade and Economic Cooperation – the venue for talks on both projects – was suspended. It was chaired by the two countries' energy ministers.