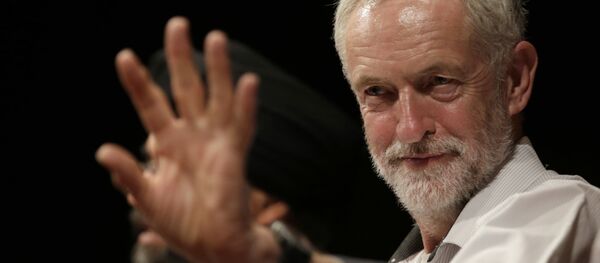 27 November 2015, 12:08 GMT
MOSCOW (Sputnik) – Cameron's words come as the UK lower house is preparing for a debate and a vote on expansion of the anti-Daesh airstrikes from Iraq to Syria on Wednesday. The UK leader has long called for the move.
"You should not be walking through the lobbies with Jeremy Corbyn and a bunch of terrorist sympathisers," Cameron told a committee of Conservative backbenchers late Tuesday, asking them to support the military campaign, as quoted by The Guardian newspaper.
Labour Party leader Jeremy Corbyn requested a two-day debate to be held ahead of the vote, criticizing Cameron for not providing enough time for lawmakers to consider the proposed military operation. Corbyn announced on Monday that Labour members would be allowed a "free vote."
The United Kingdom has been conducting airstrikes against Daesh positions in Iraq since September 2014, as part of a US-led international coalition against the extremist group. A parliamentary vote held in 2013 prevented Cameron from expanding the British offensive into Syria. Corbyn has been staunchly opposing the UK military operation in both Syria and Iraq.
Russia, which has outlawed and designated Daesh as a terrorist group, has also been launching airstrikes against its positions in Syria since September on request of Damascus authorities.