MOSCOW (Sputnik) – The Iraqi government is against having foreign ground forces on its territory and has only asked the US-led coalition to intensify airstrikes, Iraqi government spokesman Saad al-Hudaythi told Sputnik on Wednesday.
US State Secretary John Kerry said Wednesday at a meeting of 28 NATO foreign ministers in Brussels that Washington had briefed Baghdad on its plan to deploy US special forces to Iraq, adding the two governments were to discuss their next step soon.
"The Iraqi government's position in regard to deploying ground forces from any foreign states has not changed, Iraq doesn't need ground forces," al-Hudaythi said.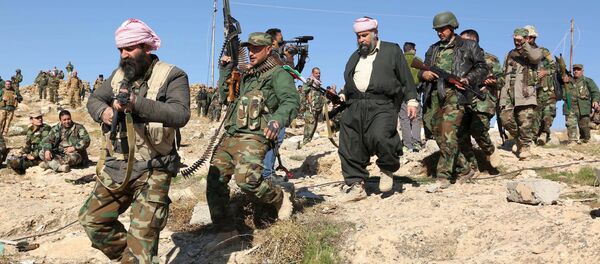 2 December 2015, 10:35 GMT
He said that earlier the government had asked the US-led coalition to deliver more airstrikes in the fight against terrorism in order to support Iraqi ground troops.
"In regard to deploying military units [in Iraq], actually there have been no agreements on this issue with the American side and has not been discussed at all," al-Hudaythi added.
US Defense Secretary Ashton Carter claimed on Tuesday that a new special operations force would be sent to fight Islamic State militants in the Iraqi territory. Iraqi Prime Minister Haider Abadi said the same day that any foreign ground operation in Iraq required approval of local authorities.
The Islamic State (ISIL, or Daesh in the Arab world) is a violent militant group, outlawed in many countries, including Russia and the United States