MADRID (Sputnik) — The Spanish Constitutional Court ruled on Wednesday to void the Catalan government's resolution on secession from the country, as was deemed to contradict the country's constitutional law, local media reported.
The decision, which was made by a panel of 11 judges, was announced officially after much speculation in the media, 24 Horas TV channel said.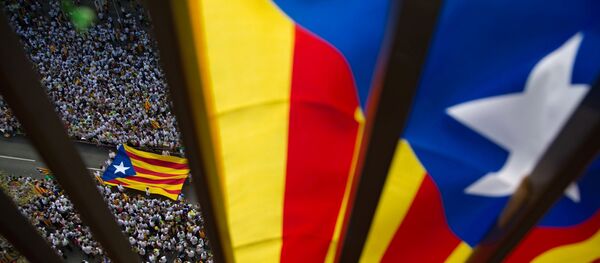 19 November 2015, 15:38 GMT
On November 9, the Parliament of Catalonia passed a resolution to begin the process of seceding from Spain. The initiative was backed by 72 votes in the 135-seat parliament.
Acting Catalan President Artur Mas vowed to continue the process of breaking away from Spain despite the Spanish Constitutional Court ruling to suspend the secession after an appeal from Madrid.
Catalonia has long sought independence from Spain, accusing Madrid of constraining its economic and cultural autonomy. Madrid has repeatedly said that Catalonia's separation from Spain is against the country's Constitution.