WASHINGTON (Sputnik) – The US Senate has passed a bill that would repeal key provisions of the Affordable Care Act, also known as Obamacare, and stop federal funding of abortion provider Planned Parenthood for one year.
The bill was approved with a 52-47 vote in the Republican-controlled Senate on Thursday. It will now go to the House of Representatives, which passed a different version of the legislation in October.
Senate Republicans had tried to pass legislation to repeal Obamacare several times, but it was blocked by Democrats. In the Thursday vote, the bill was passed by Senate thanks to a special budget procedure that allowed a simple majority for victory.
The Obama administration has previously said that the president would veto any legislation that repeals Obamacare.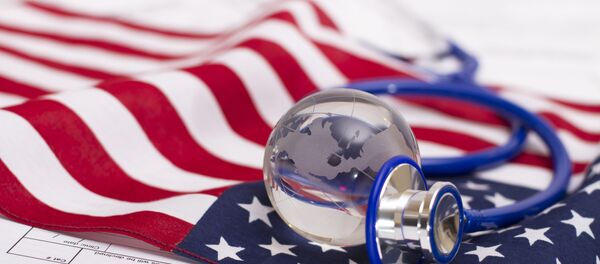 2 December 2015, 00:43 GMT
The White House insists that Obamacare is a much-needed law that prohibits insurance companies from discriminating against people with pre-existing conditions, saves money, and insures higher quality care.
In July, the White House said that US President Barack Obama also opposes the effort led by Republican lawmakers to defund Planned Parenthood.
Planned Parenthood receives $500 million per year in financial support from the US government and performs or supports more than 300,000 abortions per year.
The organization has come under intense scrutiny after the Center for Medical Progress, an anti-abortion group of investigative journalists, revealed several videos showing Planned Parenthood senior officials discussing the harvesting and selling of aborted fetuses' organs and tissue.
Last week, a gunman barricaded himself in a Planned Parenthood clinic in Colorado Springs after killing three people and injuring nine. He was later surrendered to the police.