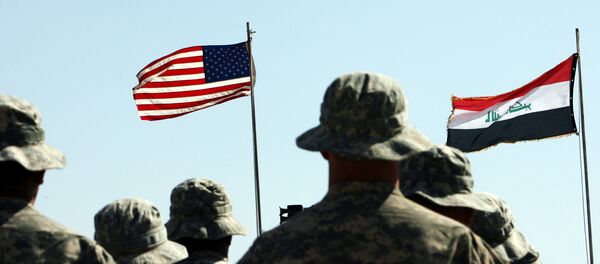 4 December 2015, 18:41 GMT
BAGHDAD (Sputnik) — Pentagon's decision to deploy its special forces to Iraq to fight against the Islamic State (ISIL, or Daesh in the Arab world) is a violation of the US-Iraqi agreement on the withdrawal of US troops from the country, an Iraqi lawmaker said on Friday.
Earlier this week, US Defense Secretary Ashton Carter said Washington was deploying a "specialized expeditionary targeting force" to Iraq to assist Iraqi and Kurdish forces battling Daesh, a militant group outlawed in Russia.
"We completely reject the deployment of US forces in Iraq to carry out military and intelligence operations. Iraqi security forces and the forces of Shiite militia al-Hashd al-Shaabi [part of Popular Mobilization Forces] able to liberate areas occupied by IS militants," Khalaf Abd Samad said in a statement.
He also stressed the need to respect the Iraqi-US agreement on the withdrawal of US troops signed in 2011, and noted that any foreign deployment in Iraq would be considered occupation and the violation of Iraqi sovereignty.
In March 2003, a US-led coalition invaded Iraq, as Washington accused Iraqi then-leader Saddam Hussein of supporting terrorism and having weapons of mass destruction. The invasion signaled the start of the Iraq War, which ended only in 2011, when the US forces were completely withdrawn from Iraq, except for servicemen at the US Embassy.
The United States leads a multinational coalition that has been conducting airstrikes against Daesh in Iraq and Syria since 2014. The militant group, in control of vast territories in both countries, is also being countered by Syrian and Iraqi troops, as well as Kurdish forces.