CAIRO (Sputnik) – On Saturday, the Hurriyet newspaper reported Turkey would have a permanent military base near the Bashiqah region of the Iraqi province of Mosul, where Turkish troops are training Iraqi Kurdish fighters, also known as Peshmerga.
"There are no agreements with Turkey on military bases in Iraqi Kurdistan. The only accord was concluded with the international coalition of 62 countries, which includes Turkey, but it does not provide for existence of military bases, only the training of Kurdish forces fighting terrorism and air support," Saadi Ahmed Pira, a social democratic Iraqi-Kurdish political party representative, said in a telephone conversation.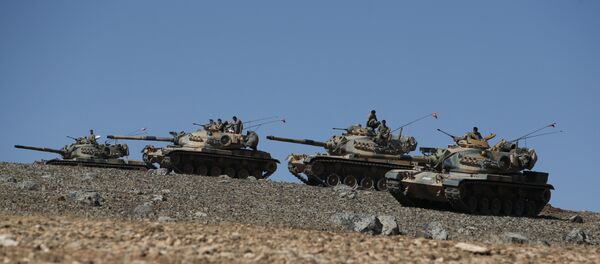 6 December 2015, 16:08 GMT
On Friday, various media reports said that about 130-150 Turkish military personnel had been deployed in the northern Nineveh province allegedly to provide training to Kurdish Peshmerga.
The Iraqi Foreign Ministry demanded withdrawal of the Turkish troops from Iraq, qualifying their presence as a hostile act that violates the sovereignty of the country.