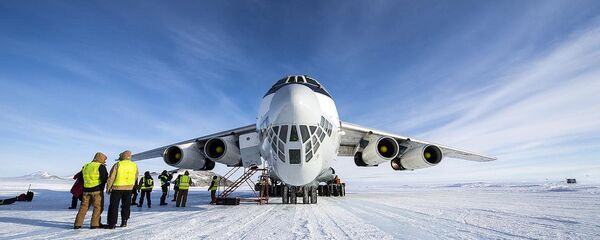 9 November 2015, 18:18 GMT
MOSCOW (Sputnik) — Oceanographic research ship Admiral Vladimirsky of the Russian Baltic Fleet has completed a business visit to Saudi Arabia as part of an expedition to the coast of Antarctica, Russia's Navy spokesman said Sunday.
"Oceanographic research vessel of the Russian Navy Admiral Vladimirsky…as part of the first in more than 30 years expedition to Antarctica, which began on November 6, completed a business visit at the port of Jeddah [Saudi Arabia]. The ship's crew had the opportunity to rest, food and water were replenished to the required standards," Сapt. 1st Rank Igor Dygalo told reporters.
According to Dygalo, Russian Ambassador to Saudi Arabia Oleg Ozerov had a meeting with the vessel's crew during its stay in Jeddah.
The Admiral Vladimirsky left Russia's Kronstadt port near St. Petersburg on November 6 in a hydrographic campaign.
The ship is expected to go over 30,000 nautical miles and visit Antarctica, before it returns to Kronstadt in April 2016.