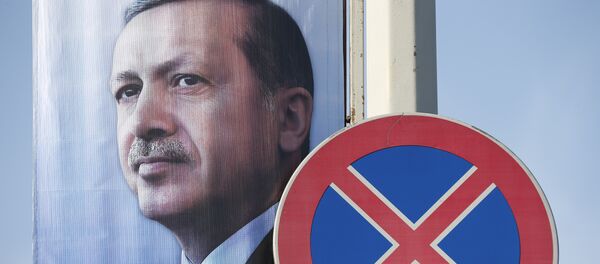 30 November 2015, 01:51 GMT
The report, released by the Republican People's Party (CHP), states that in the past ten months 98 people have been accused of slander, of which 68 were held on trial.
The total number of those who have been taken into custody over human rights issues in the period from January 1 through October 7 has reached 5,795 people, according to statistics contained in the report.
It also shed light on the restriction of web sources by Turkish authorities in the course of recent years. The paper reads that in a four-year period the number of blocked sites gradually increased annually; while in 2011 only 15,562 websites were blocked, in 2015 this number has reached 96,000.
The wave of arrests for allegedly insulting President Erdogan has swept the country since his election in August 2014, affecting opposition journalists and public figures, according to media reports. Among the most high-profile instances are media figures such as Sedef Kabas, Hidayet Karaca and Mehmet Baransu.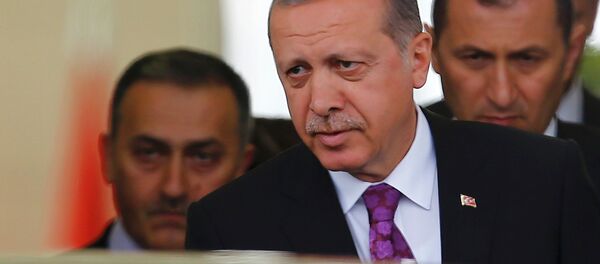 10 October 2015, 01:02 GMT
Physician Bilgin Ciftci was recently accused of insulting Erdogan for comparing the president's facial expressions in some photos to those of a character from the "The Lord of the Rings" movies.
An investigation is under way to determine whether the comparison could be equated to any kind of insult.
Earlier, Bülent Kenes, editor-in-chief of Turkish opposition newspaper Today's Zaman, was accused of insulting Turkish leader in a Twitter post.
Turkish law enforcement has also detained a 15-year-old teen suspected of a similar violation.
Many rights groups and free speech advocates have slammed the Turkish government for persecuting people for expressing their opinions, describing it as an aggressive measure against expressing dissent in Turkey.