There has been open warfare within Labour ever since Corbyn was elected party leader by a majority of grassroots supporters and the unions, in a shock victory in September. The left-wing, anti-war firebrand defeated three center-ground rivals in the election, which was triggered by the resignation of Ed Miliband following Labour's defeat at May's general election.
Corbyn says he has a mandate of the whole of the party membership, but many of his own lawmakers in parliament say they were elected on a different mandate in May and are openly against his views — particularly on military action in Syria and the Trident nuclear deterrent, which party policy favors, but which Corbyn does not.
Corbyn's campaign team has formed a group calling itself Momentum, which says it will " represent its supporters amongst the Labour Party membership as well as the wider social movement."
However, many lawmakers believe it will split the party.
"They seem to be focused on interfering in the organization of the Labour party. That is exactly what far-left groups like Militant did in the 1980s. They act as a separate party operating within the Labour party but with no real loyalty to the party," Flint told reporters.
'Division and Disunity' 
The party was plunged into crisis last week during a parliamentary vote of military actions in Syria against Daesh, also known as ISIL.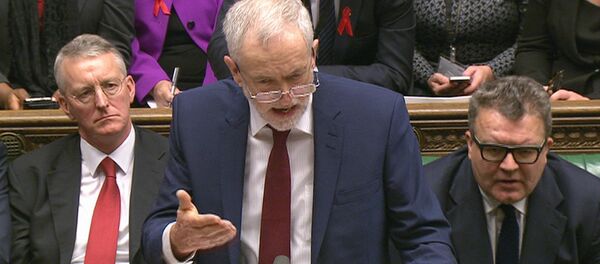 3 December 2015, 12:04 GMT
Corbyn is anti-war and wanted his party to back him against intervention in Syria, but failed to carry many of his lawmakers with him and was forced to offer them a free vote, rather than attempt to impose a three-line whip, which would have led to shadow cabinet resignations.
In the run-up to the vote on December 2, there were allegations of intimidation and bullying by pro-Corbyn anti-war campaigners. "It is a systematic and substantial effort to bully moderate Labour MPs into voting against military action. This is being aided and abetted by Corbyn's office. They are circulating the contact details of MPs who are undecided," one Labour MP who was subjected to sustained abuse told the Guardian.
"The threats and intimidation that people have received through social media and emails to their offices and letters to their offices has no place in political debates. I have never received this sort of personal abuse and intolerance to any other point of view to the one that I have been expressing, and it's unprecedented," Flint said.
"There are a number of things coming from people not in the Labour Party, but clearly some of them are in the Labour Party. We have had a rush of new membership and Jeremy Corbyn hoped this would ignite the grass roots campaign, but there's been more campaigning against Labour MPs and that will only serve division and disunity," she said.