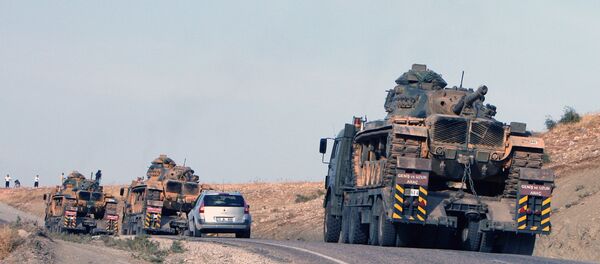 8 December 2015, 13:04 GMT
Turkey's decision to deploy 25 tanks and hundreds of troops to strengthen one of its military units in northern Iraq is an exceptional move, and also causes concern in other countries in the region, Haldun Solmazturk, former brigadier general in the Turkish army, told Sputnik Turkey.
"The Turkish army is not going into Iraq for the first time. Over the last almost 20 years different units of the Turkish armed forces have been in Iraq for one or another reason," explained Solmazturk.
Last week hundreds of Turkish soldiers and a 25 tank battalion arrived at a Turkish base in Kurdish-held territory in northern Iraq, close to Mosul. 
Ankara said the deployment is part of an international mission to train and equip Iraqi Kurdish forces to fight against Daesh, which captured Iraq's second city in June 2014.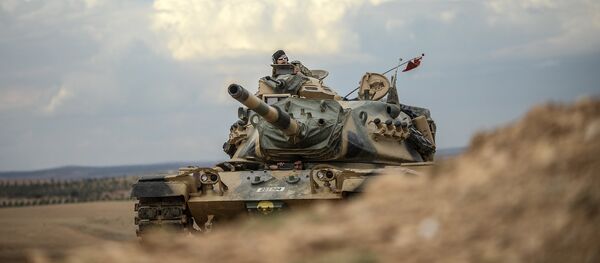 8 December 2015, 10:12 GMT
In response, Baghdad threatened on Sunday to go to the UN Security Council if Ankara does not withdraw the tanks and soldiers from its territory within 48 hours, and called the deployment a violation of its sovereignty.
"It must be recognized that forming additional support with 25 tanks is, at the least, an exceptional measure," said Solmazturk.
"Before sending such powerful reinforcements into a neighboring country, it is necessary to agree that action with the central government of Iraq, which is in Baghdad. Obviously, Baghdad was not warned and there was no agreement with it."
"By sending 25 tanks into Iraq Turkey has violated generally accepted rules. After all, tanks are powerfully armed systems. That kind of behavior from Ankara has to cause concern not only for Baghdad. It has worried everybody in the region. Those kind of things need to be done by agreement, after all, it's not a usual, planned, and definitely not routine reinforcement."
"It's possible to strengthen your units which are legally present on the other side of the border. However, it shouldn't take place on such a scale, and should be strictly according to agreement with that country."