Crossbench peer Baroness Cox, who has worked on the issue of Islamic mediation in Britain, raised concerns about the nature of sharia councils, saying there was a fear they could subvert British laws.
"I think there is a real problem in the way that they are currently operating, in that it is a kind of parallel legal system," Baroness Cox told UK newspaper the Independent.
Baroness Cox proposed introducing a private member's bill, which would prevent any legal power from being granted to sharia councils in Britain, saying that in many cases they discriminate against women.
"There are aspects of sharia law and the way the sharia courts operate which are fundamentally incompatible with the laws, values, principles and policies of this country and which represent a threat to the fundamental principle of one law for all."
The comments were in response to a report, seen by the newspaper, that found some women in Britain were being locked into "marital captivity" while sharia councils were doing nothing to report domestic violence and other abuses.
The research, to be presented to the UK Houses of Parliament next month, was carried out by legal scholar Machteld Zee from Leiden University in the Netherlands, who gained unprecedented access to a number of sharia councils in London and Birmingham.
Ms Zee interviewed a number of sharia experts before concluding that:
"There are, in fact, two separate legal orders functioning [in the UK], of which one currently operates in the 'shadow of the law'."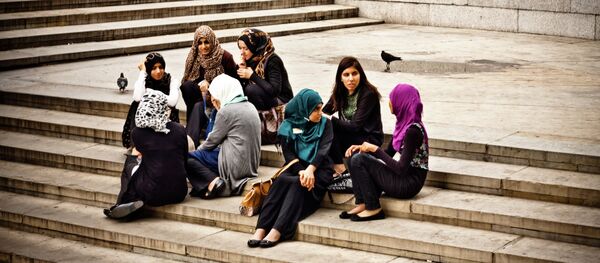 20 January 2015, 14:57 GMT
The findings have once again triggered debate in Britain over the matter of sharia councils and whether they are scrutinized sufficiently.
It is estimated that there are about 80 sharia councils operating in the UK. They can only operate on religious matters and have no legal status, effectively being councils or tribunals.
However, given the evidence of researchers, there are fears that in many cases, sharia councils are rejecting UK laws in favor of sharia rulings, which has prompted Baroness Cox to call for legislation to be introduced to make it illegal for sharia councils to overrule British law.
As a result, the UK Home Office has launched an independent investigation into sharia courts in Britain.