While Turkish President Recep Tayyip Erdogan is playing innocent and pledging to resign if he receives proof of his involvement in Daesh's oil smuggling, evidence is mounting that Turkey has taken part in other sinister activities in Syria and Iraq.
"While Erdogan talks only of oil, there are other issues to note as well. First of all, let's talk about arms shipments that cross Turkey and move into Syria and Iraq. By Erdogan's claim of total innocence, we must assume that ISIS (Daesh), al-Qaeda and the other openly terrorist groups that make up 95% of those fighting against Iraq and Syria are operating without any outside supplies," Gordon Duff writes in his recent article for New Eastern Outlook. Duff is a US Marine combat veteran who served during the Vietnam War and is senior editor of Veterans Today.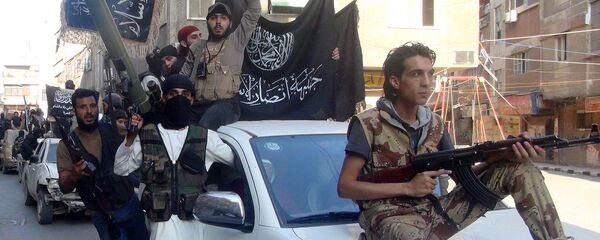 4 December 2015, 17:10 GMT
To some extent this was true, the expert notes, referring to the fact that back in 2012, Daesh obtained hundreds of American Humvees and Abrams tanks, not to mention a few Syrian Air Force planes.
"In fact, much of the best of this equipment, including dozens of updated Soviet-era T-72 tanks, are in wait inside Turkey, protected by Erdogan for that 'drive on Damascus' that seems more and more unlikely as time goes on," Duff remarks.
The military expert points out that much of the fighting is for control of roads in and out Turkey. These roads are used for carrying oil from Daesh-controlled regions to Turkey and for transporting arms and supplies from Turkey to Islamist militants.
#SYRIA Rus MoD provided video evidence & showed tankers not just crossing Turkish border checkpoints, but even without a stop to be checked

— Минобороны России (@mod_russia) 5 декабря 2015
​Duff contends that when Erdogan claims that nothing of the kind is going on in Turkey, it sounds ridiculous: Russia's surveillance photos clearly show that thousands of oil trucks are moving from the Daesh-held territory to Turkey and crossing the Syrian-Turkish border.
#SYRIA Statements of American officials about impossibility to register the delivery of terrorists' oil to Turkey "smell" as real patronage

— Минобороны России (@mod_russia) 5 декабря 2015
"They don't go anyplace else, there is no place else," the expert stresses.
#SYRIA Pentagon stated that last month US was destroying only profitable terrorist facilities.Were earlier destroyed only unprofitable ones?

— Минобороны России (@mod_russia) 5 декабря 2015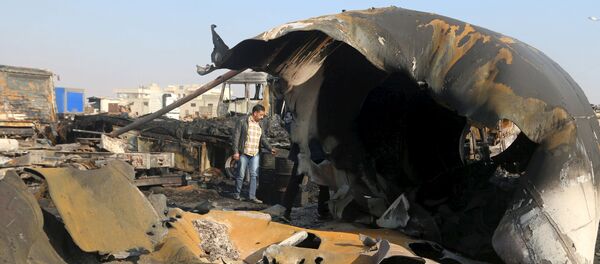 3 December 2015, 04:54 GMT
​And that is not all, Duff continues. Syrian Minister of Justice Dr. Najm Hamad al-Ahmad has repeatedly called attention to the Turkish organized crime in Syria and Iraq: some Turkish groups have been engaged in the systematic looting of oil, antiquities and, in a word, "everything that wasn't nailed down," the veteran narrates.
However, Turkey's most glaring misdeed — the theft of an entire Syrian automobile assembly plant from the suburbs of Aleppo — remains largely neglected, he adds.
The expert wonders why the Turkish-Syrian border remained unsealed for almost four years. There is a lot of talk about the necessity to close the border, to stop the continuous trafficking of oil, arms and fighters in and out of Turkey, and thus cut off Daesh's lifeline. But there is a little if any action on the part of Ankara and Western leaders.
"Every aspect of this cross-border traffic involves the government and military of Turkey and its complicity in support of terrorism, five minutes with a map will tell anyone this," Duff stresses.
"Why are ISIS (Daesh) and al-Nusra [Front] so dependent on the Turkish border, why do they fight so hard to keep the roads to Turkey open? Why is this lifeline [there] if Turkey is, in no way as Erdogan asserts, involved in support of terrorism?" the veteran asks.
It is unlikely that Recep Erdogan would ever recognize his role in oil smuggling. Instead, he demands the detention of journalists, military officers and judicial officials who try "to stop Ankara's and Erdogan's full and absolute complicity in terrorism," Duff underscores.
Remarkably, Washington remains blind to this.