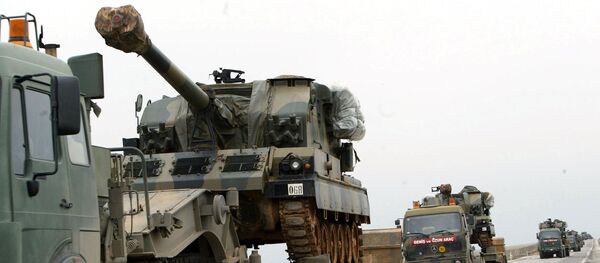 8 December 2015, 11:59 GMT
BAGHDAD (Sputnik) – The Security and Defense Committee of the Iraqi Parliament has called for a review or cancellation of an agreement with the United States on security over Washington's lack of a clear reaction to the worsening situation in the country, committee member Hamid al-Mutlaq told Sputnik on Wednesday.
"The government and parliament need to review the agreement signed with the United States on security because the United States does not seriously care about its fulfillment. We demand that it be annulled," al-Mutlaq said.
"Iraq will be protected only by its sons, and Turkey must withdraw [its troops] because Iraqi soil is holy and its sovereignty is the red line. We have the right to give this issue international character and demand Turkish troops be withdrawn through the UN Security Council," al-Mutlaq continued. 
On Monday, Iraqi Prime Minister Haider Abadi gave Turkey 24 hours to withdraw its troops from Iraq to avoid the matter being reviewed by the UN Security Council. Turkey has refused to do so.