Obama is a strange and, at the same time, somewhat magical president, reads Martin Peltier's article for the website.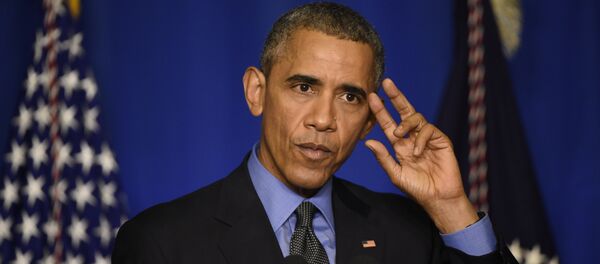 3 December 2015, 12:50 GMT
After the
San Bernardino shooting
, which claimed the lives of 14 people and left 21 injured, he, as did President Hollande after the terrorist attacks in Paris, proclaimed a total war on Daesh terrorists. But why only now, the author questions?
The author further explains that it was Obama, who now vows to destroy Daesh (also known as the Islamic State or ISIL), who actually facilitated its emergence in Iraq. By oppressing the Sunnis and preventing the Ba'ath party (Arab Socialist Renaissance Party), which advocates the formation of a single Arab socialist nation and ruled Iraq until the US-led invasion in 2003, from regaining control there.
And in Syria, where Barack Obama is fighting President Assad, he supplied weapons to the allies of Daesh, who, in turn, re-supplied it directly to the Daesh jihadists.
President Obama covered for Saudi Arabia and Qatar, who made it possible for Daesh to receive financing through the sale of stolen oil.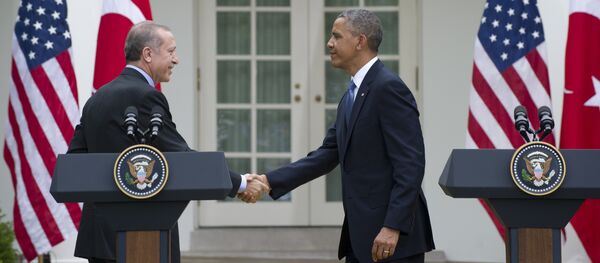 26 November 2015, 22:45 GMT
And finally, today
he supports Turkey
, which shot down a Russian bomber which was engaged in fighting Daesh, and which, in turn, directly supports the jihadists.
So, just as his predecessors vowed to destroy al-Qaeda, Barack Obama has now vowed to destroy the terrorists that he created and nurtured during his term.
The author recalls that back in 2008 Barack Obama used the "Yes We Can" slogan, a phrase borrowed from a song from the 1960s, for his presidential campaign.
"Yes, He Can," Martin Peltier concludes, "laugh at us and reap the rewards."