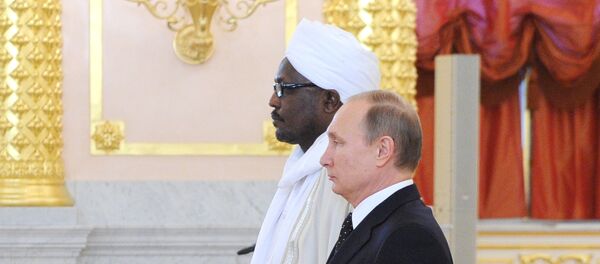 9 December 2015, 11:08 GMT
MOSCOW (Sputnik)
–
Sudan supports and highly appreciates the principles expressed in Russian President Vladimir Putin's September 28 speech at the UN General Assembly, the country's ambassador to Russia Nadir Babiker said Wednesday.
"We highly appreciate Putin's speech at the UN General Assembly, there can not be a unipolar world," Babiker said at a press conference at the Rossiya Segodnya International Information Agency.
In his address to the UN General Assembly, Putin, among other issues, upheld the importance of national sovereignty and the lessons from the Cold War era that the modern world should remember.
A considerable part of Putin's speech was devoted to the need for joint action on terrorism.
Nadir Babiker noted that his country was actively countering terrorism.  However, according to the envoy, terrorism and the fight for self-determination, like is the case with Palestine, are not the same things.
The meeting between Russian Defense Minister Sergei Shoigu and Sudanese Defense Minister Ahmed Awad Ibn Auf is expected to contribute to the implementation of the deals concluded between the Republic of Sudan and South Sudan, Nadir Babiker said.
In September, Russian Foreign Minister Sergei Lavrov and his Sudanese and South Sudanese counterparts, Ibrahim Ghandour and Benjamin Barnaba respectively, held talks in Moscow and agreed to accelerate the implementation of the security arrangements between the two countries. Lavrov said that Moscow would continue providing support for Sudan and South Sudan in the bilateral negotiations.
"The Russian side has made this proposal [to host a visit of the Sudanese defense minister] to assist the implementation of the agreements [between Khartoum and Juba]," the envoy said at a press conference at the Rossiya Segodnya International Information Agency.
He added that at the moment the sides were coordinating the date of the potential visit.
"It will be a good opportunity for the defense ministers to discuss bilateral cooperation, as I mentioned, the cooperation has a long history and, thank God, comes with an excellent speed. Of course, meeting is needed to further expand military cooperation," he pointed out.
Oil-rich South Sudan seceded from what is now the Republic of Sudan in 2011. The two countries have not been able to agree on several issues, including the definition of borders and conducting a referendum on the status of the disputed oil-rich border area of Abyei.