A group of former armed servicemen and women, known as the Veterans for Peace (VFP), gathered outside Prime Minister David Cameron's official residence to denounce last week's parliamentary vote, which extended Britain's anti-Daesh (also known as ISIL/IS) bombing campaign into Syria.
"I think it is ridiculous that they voted for [airstrikes in Syria]. We fought in Afghanistan, we fought in Iraq and in Libya, and it didn't solve a thing, it made things worse," former soldier Ben Griffin said.
"It is highly disappointing, having gone through these wars, to see MPs voting for more war. War is not the solution to this problem. More bombs in Syria isn't going to solve this. We are completely disgusted by those MPs."
Griffin also said that part of the protest was to destroy the "mythology" associated with the armed forces, with VPF aiming to "educate young people on the true nature of military service and war," while attempting to convince people that war is "not the answer to the problems of the 21st century."
A number of former military personnel spoke at the demonstration, including Gulf War veteran Kirk Sollitt, who said the increased airstrikes will only bring more suffering.
While parliamentarians voted 397 to 223 in favor of carrying out airstrikes on Daesh targets in Syria, polls have shown that the issue is highly contentious among the British public, with many polls suggesting that extending the military action doesn't have the support of the majority of the population.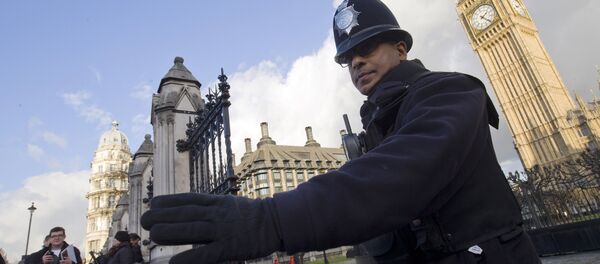 4 December 2015, 13:15 GMT
Many, including Labour leader Jeremy Corbyn, said that the airstrikes will ultimately lead to civilian casualties in Syria, while VFP member David Smith raised questions over the legality of the strikes.
"I want to express my utter disgust at the decision to unlawfully bomb Syria, god help all those who are likely to suffer as a result of this action. I renounce all forms of state sanctioned warfare and violence."
Despite the opposition, many parliamentarians, including a large number of lawmakers within Corbyn's own Labour party have supported the UK's decision, saying that Daesh directly threatens Britain, and the only way to effectively defeat the group is to step up attacks on its bases in Syria.
Supporting the decision to extend military intervention, UK Prime Minister David Cameron said Britain could either attack "the terrorists in their heartlands, from where they are plotting to kill British people" or "sit back and wait for them to attack us."