The ship, with its angular design, departed the Bath Iron Works in Maine and made its way down the Kennebec River to the ocean.
Costing $4.3 billion, the Zumwalt is first in a new line of revolutionary guided missile destroyers.
Coincidentally, the futuristic-looking vessel is commanded by US Navy Captain James Kirk, who shares a name with the commander of the fictional spacecraft Starship Enterprise from the sci-fi TV series "Star Trek."
"We are absolutely fired up to see Zumwalt get underway," Kirk was quoted as saying by the Tampa Bay Times. "For the crew and all those involved in designing, building, and readying this fantastic ship, this is a huge milestone."
The US Navy Sea Systems Command tweeted: "Zumwalt sails for the first time."
Kelley Campana, a Bath Iron Works employee, said she had goose bumps and tears in her eyes.
"This is pretty exciting. It's a great day to be a shipbuilder and to be an American," she said. "It's the first in its class. There's never been anything like it. It looks like the future."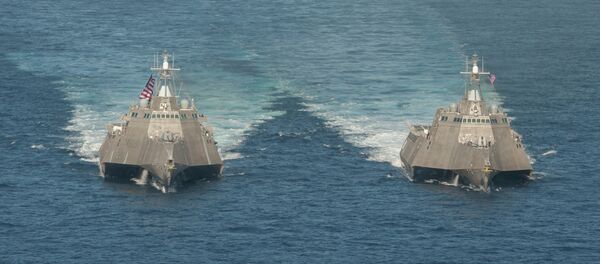 4 December 2015, 21:03 GMT
The ship is 600 feet long and weighs nearly 15,000 tons, making it the largest destroyer in the US fleet. But with an angled hull and deck house, it is designed to look no bigger than a fishing boat on radar.
Its motors are electric powered, driven by an innovative integrated power system that may one day also support an array of energy-intensive weapons like lasers and electromagnetic rail guns, AFP reported.
It is intended to be capable of operating in shallow coastal waters, laying down fire to support forces on shore, as well as conducting anti-aircraft and naval surface warfare.
Only three Zumwalt-class ships will be built, as Congress cut back funding for original plans for 32 ships.