Last week, Turkey deployed troops to a camp in Mosul in northern Iraq. Baghdad condemned the move as a violation of sovereignty and asked NATO to intervene. It also set a 48-hour deadline to withdraw, which has since expired.
Now, the threat by Shia militias adds to the mounting pressure on Turkey, which says the forces are there to train Iraqi troops battling Daesh, also known as ISIL/The Islamic State.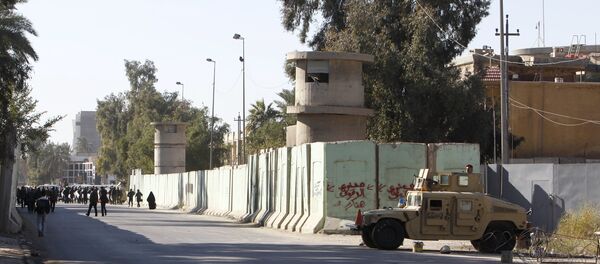 9 December 2015, 22:23 GMT
Karim al-Nuri, a spokesman for the Badr Brigade, the largest coalition of Shia militias, likened the Turkish incursion with the occupation of Iraq by Daesh militants and said "all options" were available.
"We have the right to respond and we do not exclude any type of response until the Turks have learned their lesson," Nuri said. "Do they have a dream of restoring Ottoman greatness? This is a great delusion and they will pay dearly because of Turkish arrogance."
Turkey on Tuesday said it will not withdraw its soldiers, but it also would not send anymore. Baghdad said it never invited the forces in the first place.
Iraqi parliament members on Wednesday unanimously approved a motion to support the government in taking whatever measures against the incursion it viewed as appropriate.
Several MPs suggested Iraq could wage "economic war" on Turkey, but Jafaar Hussaini, a spokesman for one of the Shia armed groups, Kata'ib Hezbollah, said violence was likely, Reuters reported.
"We say that they military option is still probable and we might reach a stage in the next few days where we start carrying out operations against the Turks, be it against their soldiers or Turkish interests in Iraq."