After hundreds of Turkish troops filed into northern Iraq last week, Baghdad was quick to call foul. Viewing the move as a breach of its national sovereignty, Iraq gave a 48-hour deadline for the complete withdrawal of Turkey's forces.
That deadline came and went without any reaction from Ankara, which insists that the troops are essential to defend trainers at a military base in the region.
Baghdad is now making good on its backup plan: an appeal to the UN Security Council.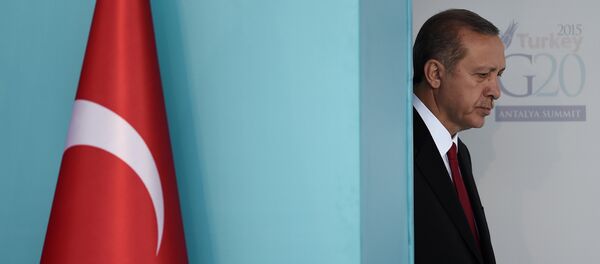 11 December 2015, 18:15 GMT
On Thursday, Iraq's foreign ministry said it was reaching out to the council's five permanent members "to gather international support for issuing a Security Council resolution condemning this violation," according to Defense News.
Baghdad has also appealed to Arab foreign ministers, requesting a meeting to discuss "the consequences of this violation."
Turkish President Recep Tayyip Erdogan responded to Iraq's appeal to the UNSC in a Friday interview with Al Jazeera, saying "that is their natural right, but this is not an honest step."
While world leaders meet to resolve the situation, the Turkish government is also being warned to leave Iraq by regional militant groups. Furaq al-Mawt, whose name translates to "Death Squads," released video earlier this week which threatened violence if Ankara did not withdraw its troops. The same group also took responsibility for kidnapping 18 Turkish workers in Iraq.
Ankara has defended its actions, with Prime Minister Ahmet Davutoglu stressed that Turkey has the right to defend its base, near the Iraqi city of Mosul, from extremists.
"When the threats increased, we sent troops to protect the camp. It's not an act of aggression but an act of solidarity," he said, according to Defense News.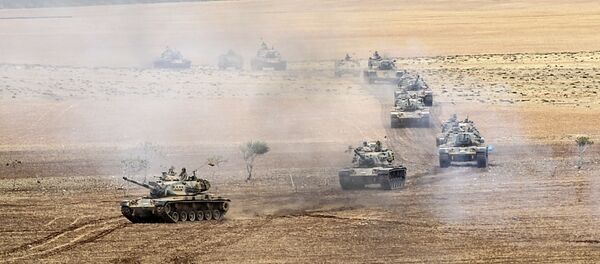 11 December 2015, 11:59 GMT
While the military installation could ostensibly be used in the fight against Daesh, also known as ISIL/the Islamic State, the Turkish government may also be attempting to stifle the growing influence of the Kurdistan Workers' Party, which Ankara views as a terrorist group.
On Wednesday, the Turkish government also issued a statement calling on all citizens in Iraq to leave immediately, citing security threats.
"We strongly advise those whose stay is not essential to leave those provinces as soon as possible," the statement reads. "The scope of our travel warning to Iraq has expanded to include all provinces except for Dohuk, Arbil and Sulaymaniyah."
The exempted provinces are all part of the northern region of Iraqi Kurdistan.