"About 200 US nuclear bombs are currently deployed in Belgium, Italy, the Netherlands, Germany and Turkey. This nuclear ordnance is also subject to a renewal program," Shoigu said.
At the present time, 55% of the Russia's nuclear triad is outfitted with modern hardware, Defense Minister Sergei Shoigu said Friday.
"Fifty-one percent of the hardware employed by the ground-based strategic nuclear forces is up-to-date. The air-based strategic nuclear forces were bolstered by ten new aircraft in 2015 – two Tu-160, three Tu-95MS and fie Tu-22M3. The capabilities of the strategic nuclear forces were greatly improved. Two new missile cruisers, Alexander Nevsky and Vladimir Monomakh, now maintain the state of permanent readiness. The Russian Armed Forces received a total of 35 ballistic missiles, so the Russian nuclear triad is now outfitted with 55% of modern hardware," Shoigu said.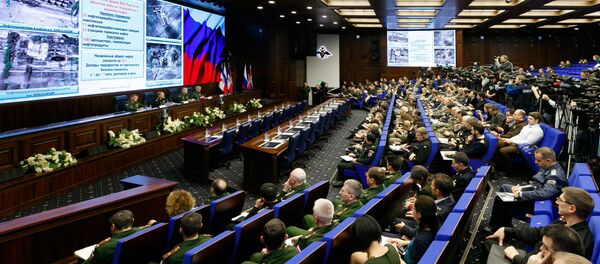 11 December 2015, 10:14 GMT
Russia's Defense Minister Sergei Shoigu mentioned the deteriorating military-political situation in the world and the gradual expansion of NATO.
"The deterioration of the military-political situation in the world continues, especially in Europe, Central Asia and in the Middle East. We also observe the gradual expansion of the NATO bloc. During a relatively short time its membership increased twofold with the addition of 12 new members," Shoigu said.