BERLIN (Sputnik) — Germany will be unable to cope with the reception of 1.1 million refugees next year, the European Commissioner for Digital Economy and Society Gunther Oettinger said.
"Germany cannot manage taking in another 1.1 million registered refugees for the second year in a row. That's why, many billions of euros were invested in Turkey, Jordan and Lebanon to create decent accommodation options," Oettinger told Bild am Sonntag in an interview.
According to the commissioner, the Europeans' solidarity should be expressed, mainly, not in quotas for the reception of refugees, but in their willingness to finance housing in the regions of the refugees' origin.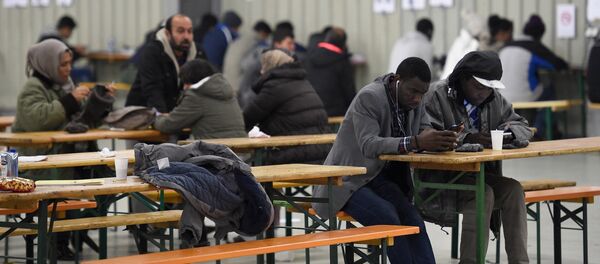 4 December 2015, 06:36 GMT
"Financial solidarity is more important than solidarity in accommodation issues," Oettinger stressed.
Only 10 percent of the German population is categorically against migrants, foreign languages and cultures, he noted.
"It will not change, and it is necessary to be taken into consideration," the commissioner outlined.
Earlier in December, German Interior Minister Thomas de Maiziere announced that 965,000 people had received or applied for refugee status in Germany this year.
He added that the initial forecast by the German government of 800,000 refugees arriving in the country in 2015 was exceeded due to the intensified refugee influx since mid-August.