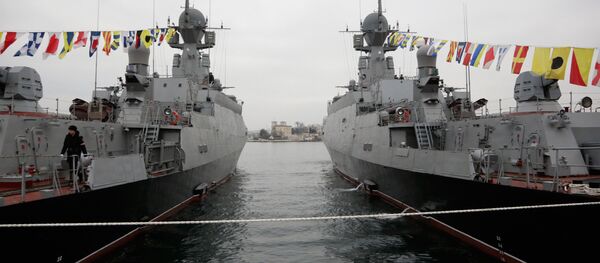 12 December 2015, 12:12 GMT
On December 7 the Russian Navy submarine Rostov-on-Don launched a salvo of long-range cruise missiles against targets in Syria from the Mediterranean Sea. The launches were filmed and promptly uploaded to the Internet.
The missiles were the SS-N-30A Kalibr, a long-range, low-flying cruise missile capable of carrying conventional or nuclear warheads.
A video released by the Defense Ministry shortly after showed at least four missiles being launched; these missiles are also capable of carrying nuclear warheads.
In October, Russia fired 26 sea-based cruise missiles from warships in the Caspian Sea about 1,500 kilometers away from their targets in Syria.
Russia has been conducting airstrikes against Daesh terrorists in Syria since September 30 upon the request of President Bashar Assad.
The Russian air force has also armed its Tu-95MS heavy bombers with its latest Raduga Kh-101 air-launched cruise missile, which made its combat debut in Syria over the past two months as well.
By launching its first combat strikes from a submarine, Russia is demonstrating to the West that it now has a long-range cruise missile capability formerly monopolized by the US and its allies.
Unlike their Western analogues, the Russian cruise missiles, even those developed years ago, are all supersonic all, which meanings that they are able to penetrate the enemy's missile defenses.
Russian military experts said that more powerful, faster and longer-range cruise missiles were now in the pipeline and would enter active service already before this the end of the decade is out.
The Pentagon, fearing Kalibr's ability to infiltrate air defense networks, constructed the JLENS aerial detection network around the Washington D.C. area to detect a so-called "decapitation strike" by nuclear-armed Kalibrs.