During a briefing in Moscow the ministry presented intelligence materials showing exactly how oil from Daesh-controlled territories in Syria and Iraq finds its way into Turkey.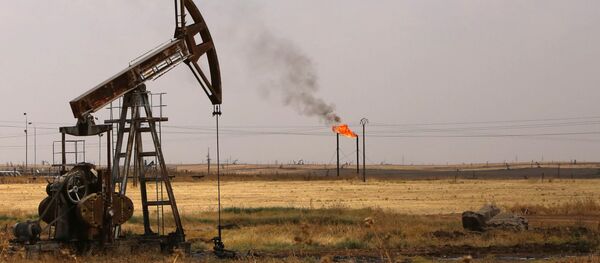 11 December 2015, 23:11 GMT
The most sensational revelation was that Turkey's top political leadership, including President Erdogan and his family, are directly involved in the dirty trade.
The Russian evidence was expectedly denied by Ankara. The Turkish President even promised to step down if the allegations were true. The report was also turned down by the Iraqi Kurdish Regional Government.
A KRG spokesman told Turkish state-run Anadolu news agency that the oil trucks in Russian satellite photos were in fact Kurdish.
The head of KRG's energy commission also told Turkish media that Daesh could not have transported oil through the Kurdish territory, as the Kurds are actively fighting the Daesh terrorists.
Hanan Shamoun, a Syrian political analyst and activist, spoke to Sputnik in an exclusive interview about this matter.
"We cannot exclude the Iraqi Kurdish regional government from the oil smuggling because if you look at google maps you will see that the smuggled oil from Syria to Turkey must go through Kurdistan. I think that the Iraqi Kurdish regional government denied the Russian proof because they want to hide something, there is a kind of connection between them and ISIL [also known as Daesh]."
Shamoun went on to say, "I think it is a matter of common interest between the government of Kurdistan and Turkey. Who knows about the secret agreements between Berzani and Erdogan? Nobody. We must not forget that last year Turkey started selling Kurdish oil to global markets and that was against the will of Baghdad. Both Kurdistan and Turkey have a common enemy PKK- Kurdistan Worker's Party. So there are a lot of common interests between Berzani and Erdogan."
Talking about how can these governments strike a deal with terrorists like Daesh, the analyst explained that if one is to look at the history of Berzani, he doesn't really care a lot about the Kurdish people because he has made agreements with Turkey to bomb his own people. "It is a matter of money, oil and power."
Looking at the role of US coalition in this matter, Shamoun said, "It is well known that the US never bombed ISIS's oil tracks and ISIS Toyotas. When the Russians did it, western media started repeating the old tone that Assad buys oil from ISIS. They know, I think. For them the main goal is the fall of Assad, anything else they don't care about."
She went on to say that the western media only cares about the fall of Assad and doesn't care about the facts. "The people in north of Syria have a lot of stories about this topic, I hope that some journalist takes the risk and goes there to get the facts about this."