"Since the start of the air campaign, Russian aircraft have destroyed over 1,200 such trucks," Lt. Gen. Sergey Rudskoy, chief of the Main Operational Directorate of the General Staff of the Russian Armed Forces, said in a statement.
"The Russian airstrikes continue to focus on destroying sources of illegal revenue for terrorists in Syria," Rudskoy stressed.
According to him, six illegal oilfields controlled by terrorists, as well as seven columns of fuel trucks carrying oil products have been destroyed over the past three days.
"Over the past few weeks, the intensity of [Russian] strikes on targets of Daesh and other terrorist groups has been increased. Russian aviation continued to give priority to undermining the terrorists' sources of income in Syria."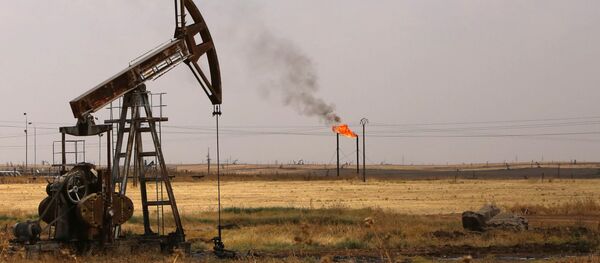 12 December 2015, 08:56 GMT
Earlier in December, the Russian Defense Ministry provided satellite images of oil trucks massing at the Turkish-Syrian border as evidence of illegal oil smuggling from Syria into Turkey.
Deputy Defense Minister Anatoly Antonov accused Turkish President Recep Tayyip Erdogan and his family of direct involvement in an illicit oil trade carried out by Daesh.