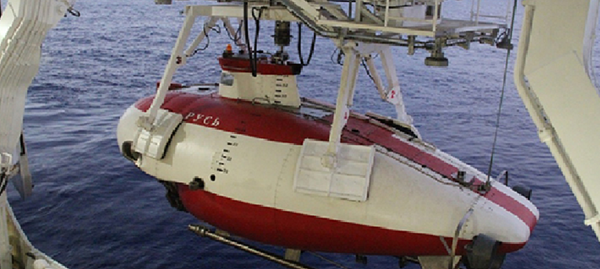 14 December 2015, 12:01 GMT
The underwater vehicle, also known as a sea drone, is suitable for "technical work, search-and-rescue  and scientific research at depths of up to 6,000 meters using a manipulator," RIA Novosti news agency reported, citing  a statement released by the Defense Ministry's department for deep-sea research.
The AUV can be used to shoot photos and videos, conduct geological surveys, and explore underwater archaeological sites.
The subsea drone will also help map the boundaries of Russia's Arctic shelf, Viktor Baranets, a Russian military expert, told Radio Sputnik.
"People at the Pentagon say our drone is meant to destroy undersea infrastructure, disrupt Internet communications, destroy underwater cables, pick up secret information and things like that. As for me, I fully agree with those who say that this mini-sub will help us determine the limits of our continental shelf in the Arctic Ocean. Conventional submarines can dive to a kilometer and a half, while this one can go much deeper to map the parts of the underwater shelf we claim. This unique mini-sub, which can dive to six kilometers and more, is exactly what we need to prove that the Arctic zones we claim really belong to us," Viktor Baranets said.
During Monday's deep-sea trials the Rus dived to 6,180 meters – which is beyond its maximum crush depth.
Manned by a crew of two or three, it has all it needs for many hours of autonomous work.
"By creating this mini-sub Russia proved once again that it is in the forefront of scientific-technical progress in this particular area," Viktor Baranets told Radio Sputnik.