Slovenia began erecting the fence along its border with Croatia in October in an effort to control the number of migrants crossing over, which marks the south-eastern extent of the Schengen area.
It follows the mass movement of people from war-torn zones, such as Syria, Iraq and Afghanistan, who responded to calls from Germany and Sweden that their doors were open to them.
However, the huge influx of people has caused several countries — including Hungary, Greece and Slovenia — to erect fences in order to control the flow of people flooding into the borderless Schengen zone.
© AP Photo / Darko Bandic
Migrants cue to enter Austria in Sentilj, Slovenia, Thursday, Oct. 29, 2015.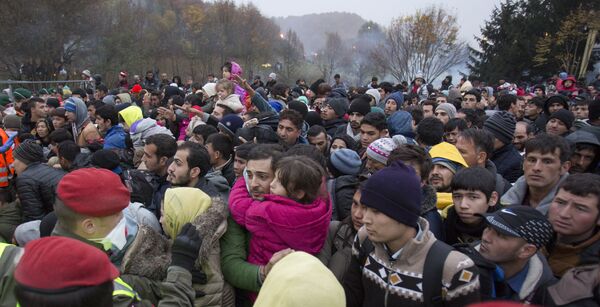 Migrants cue to enter Austria in Sentilj, Slovenia, Thursday, Oct. 29, 2015.
© AP Photo / Darko Bandic
The sheer volume of migrants crossing from Turkey and along the West Balkans route has created chaos in several countries, with many deciding to restrict the flows of human traffic and calling into question the EU's whole immigration policy and exposing the lack of security on its outer zones.
However, some locals on either side of the Slovenia-Croatia border say the erection of the fence spells disaster for their tourism industry. A group of people in the Slovenian town of Vinica have begun hanging blue and yellow — the colors of the EU flag — Christmas baubles on the newly-built fence in protest.
Meanwhile, Croatians living near the border crossing of Rupa and Pasjak began removing parts of the fence while construction was under way.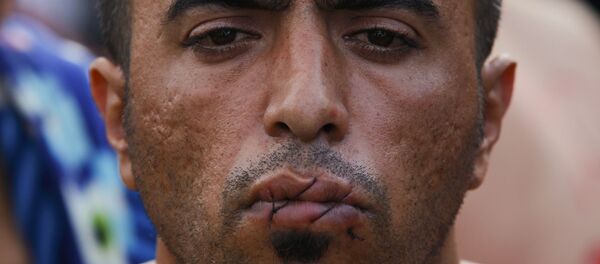 23 November 2015, 16:37 GMT
According to the World Travel & Tourism Council, in Slovenia the tourism industry contributed a total of US$ 4.9 billion (12.8 percent of GDP) in 2013, forecast to rise to US$7 billion (14.2 percent of GDP) in 2024.
In Croatia, the total contribution of travel and tourism to GDP was US$11.5 billion (28.3 percent of GDP) in 2014, and is forecast to rise US$17.8 billion (36.2 percent of GDP) in 2025. For both countries, a fenced-off border could have a devastating impact on tourism.
The Slovenian Prime Minister Miro Cerar told parliament Monday that the fence is a "temporary" measure in order to prevent an "uncontrolled" arrival of migrants and protect the local population. However, Croatian Prime Minister Zoran Milanović countered the statement by saying that "wire is not a solution" for the migrant crisis.