The Pentagon hopes to create next-generation fighters to replace the Lockheed Martin F-22 Raptor, the Boeing F-15C Eagle air superiority fighter and the Boeing F/A-18E/F Super Hornet naval strike fighter.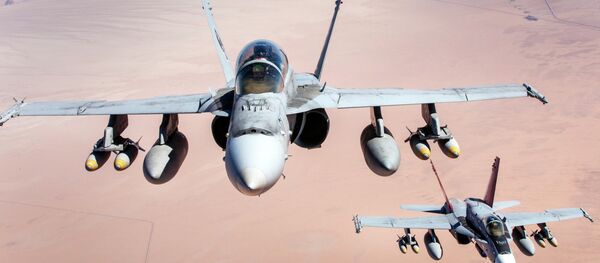 14 December 2015, 17:55 GMT
The Navy and the Air Force are still working to define what kind of capability gaps the new F/A-XX and Next Gen Air Dominance will need to address. But it is already clear that the Pentagon has learned at a hefty cost from the $400 billion F-35 Joint Strike Fighter debacle—the F/A-XX and the and Air Force Next Gen Air Dominance (NGAD) are likely to be separate programs that share common technologies, defense website The National Interest wrote.
"As you'll see over the coming years, the differences between the primary mission and the likely threats will drive significant differences between the F/A-XX and F-X programs as well as legacy systems like the F-22 and F-35," one senior defense official explained.
Keeping that in mind, Northrop concepts for a naval F/A-XX and NGAD are noticeably different but share mutual technologies and features. For example, the Navy design appears to have twin engines while the Air Force design appears to only have one.
"Both concepts appear to be supersonic flying wings designed for broadband all-aspect stealth," the publication noted.
It may be possible that the next-generation fighters could have a lot of excess power available for directed energy weapons. If the Pentagon and industry combine the technologies from the Navy's Variable Cycle Advanced Technology (VCAT) program which is working on an adaptive turbine, this could yield huge performance gains.
"Indeed, Northrop's concept for the Air Force NGAD fighter depicts a single-engine flying-wing aircraft armed with a directed energy weapon. According to Northrop, directed energy weapons and thermal management for those weapons—and advanced sensors—are going to be the fundamental challenges for a sixth-generation warplane."
In terms of raw aerodynamic performance, the F/A-XX and NGAD are likely to have similar performance to the Lockheed Martin F-22 Raptor. However, if completed, it will be much stealthier over a wider range of frequencies.