The Federal Open Market Committee (FOMC) unanimously voted to set the new target range for the federal funds rate at 0.25% to 0.5%, up from zero to 0.25%. 
"The committee judges that there has been considerable improvement in labor market conditions this year, and it is reasonably confident that inflation will rise, over the medium term, to its 2 percent objective," the FOMC said in a statement Wednesday following a two-day meeting in Washington. 
The Fed said it raised rates "given the economic outlook, and recognizing the time it takes for policy actions to affect future economic outcomes."
The neutral federal funds rate should gradually move higher over time, reaching 1.5 percent in 2016 and 2.5 percent in 2017, according to projections of appropriate monetary policy, Federal Reserve Chair Janet Yellen later told reporters.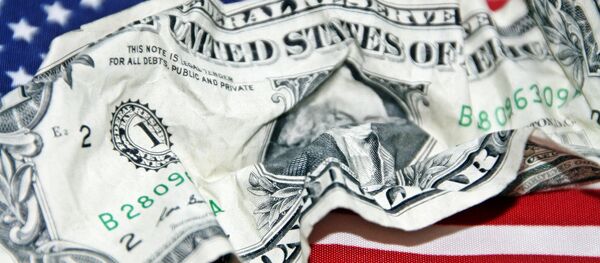 3 December 2015, 17:21 GMT
"The median projection for the federal funds rate rises gradually to nearly 1.5 percent in late 2016 and 2.5 percent in late 2017," Yellen stated. "As the factors restraining economic growth continue to fade over time, the median rate rises to 3.25 percent by the end of 2018, close to its longer-run normal level."
The rate hike was widely expected. Earlier this month, Yellen signaled that the US economy was strong enough to raise rates.
The announcement comes at a time when the US unemployment rate is at a seven-year low of 5%, with monthly hiring consistently solid. Strong jobs figures for November were seen as the final seal for a rate increase.
"The committee expects that economic conditions will evolve in a manner that will warrant only gradual increases in the federal funds rate," the FOMC said. "The actual path of the federal funds rate will depend on the economic outlook as informed by incoming data."
Wednesday marked seven years to the date since the Fed, under former Chair Ben Bernanke, cut rates to the near-zero levels at the height of the Great Recession. Under Yellen, that fiscal policy had continued until Wednesday's rate hike marked its end.
The Fed had been expected to start raising rates in September. But any rate hike was put on hold when China devalued its currency last summer, unsettling global markets.
Since then, Fed policymakers have been monitoring economic weakness abroad. A stronger dollar has hurt American manufacturers by making their products more expensive overseas.