Four years after the US-led coalition attacked Libyan Government forces, in an effort to topple Muammar Gaddafi, before turning its back on the nation which imploded into civil war, the United Nations has finally proposed a unity government.
#Zakharova: Tensions persist in #Libya. The country has split into two opposing camps, and its government institutions have been ruined

— MFA Russia (@mfa_russia) December 16, 2015​
The UN proposal comes after months of protracted negotiations between delegates from both sides, who have faced pressure from hardliners and from continued fighting on the ground that has halted part of Libya's oil production.
Key to the agreement are the General National Congress (GNC) which was the legislative authority of Libya, elected in 2012, and the House of Representatives (HoR), which took power in 2014. They were due to sign the agreement in Skhirat on December 16.
#Malta serving its vocation as bridge of dialogue by hosting first ever mtg btw Presidents of #Libya House of Reps +Gen National Congress-JM

— Joseph Muscat (@JosephMuscat_JM) December 15, 2015​
The UN-brokered deal was hailed as an agreement that would encompass a ceasefire and the creation of a government of national unity.
"A Government of National Accord is essential to address, in partnership with the international community, the country's critical humanitarian, economic, and security challenges, including ISIL [Daesh] and other extremist groups and criminal organizations engaged in all forms of smuggling and trafficking, including in human beings," the UN said in a statement.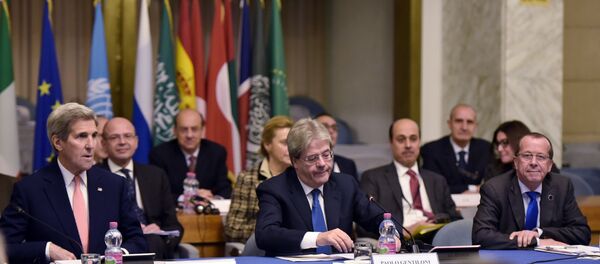 14 December 2015, 16:22 GMT
Fragmented Nation
However, analysts say the unity government may not hold together, as the country has become totally fragmented since the NATO-led military intervention to topple Gaddafi in 2011. 
Jason Pack, a researcher of Middle Eastern and World History, based between the USA and the UK, wrote in his latest blog: "There is no clear majority in the HoR or GNC in favor of the UN-brokered accord.
"Opposition is especially strong among both a large percentage of the population in Eastern Libya — especially in Benghazi — and hard-line Islamist and local GNC-affiliated militias, too. The HoR has not met quorum for voting sessions for several weeks. Rumors suggest that GNA [Government of National Accord] proponents in the HoR are not attending sessions for fear of a majority rejection and that the widely acclaimed Fezzan initiative with a majority of 92 members is not able to mobilize more than 50 for an actual vote.
"Meanwhile, divisions and lacking legitimacy are stoking tensions, thereby exacerbating the security situation. Clashes erupted in Tripoli, Zawiyya, and Sabratha, underscoring the increasing levels lawlessness and criminality. On-going battles in Benghazi between LNA forces and a coalition of extremist militias are causing dissatisfaction with Haftar and fragmentation in the HoR and eastern region in general," said Pack.