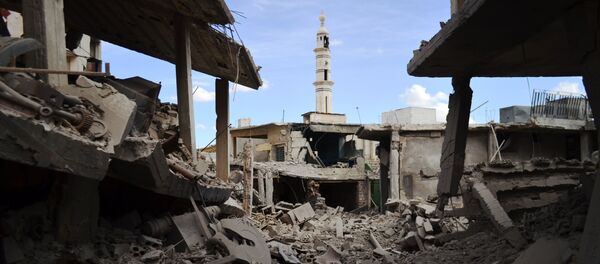 3 October 2015, 08:12 GMT
Due to poor US-led Coalition intelligence, the Western media is unwilling to credit Russia's Aerospace Forces for its successful strikes against Daesh terrorist targets, according to the Russian Ministry of Defense.     
"I have to stress that no-one has ever heard of the reporters' press-tours to the anti-Daesh coalition's bases.  As a result, it confuses even the most reliable sources like TV channels and newspapers — and they unintentionally brand our [Russian] airstrikes as those of the US-led coalition," Konashenkov explained.
The ministry's spokesman also added that since the beginning of the operation in Syria Russia has not only described their operations but has repeatedly shown the results of the airstrikes.
The Russian Defense Ministry underscored Wednesday the transparency of Russia's counterterrorism operation in Syria. 
"Today we are the only army in the world that has showed how we have hit terrorist targets with specified precision weapons from Russian planes and ships. At the same time, we know, at best, only a few words from officials about the results of the anti-ISIL coalition's combat aviation operations." 
Members of the US-led coalition, fighting Islamic State (IS, or Daesh in Arabic) in Syria and Iraq, have repeatedly accused Moscow of being indiscriminate in its attacks on Daesh positions and targeting what they call moderate Syrian opposition.
"The more precise our airstrikes become, the louder Western media get in their accusations and citations of anonymous sources that claim attacks by Russian warplanes are indiscriminate," Konashenkov added.
He said that the lack of official footage from Western countries involved in airstrikes at IS positions resulted in a recent attempt by Euronews TV channel to present Russian videos as footage of US air campaign.
A US-led international coalition has been conducting airstrikes against Daesh in Syria since 2014 without the approval of the UN Security Council or the Syrian government. In September 2015, Russia launched its own air campaign at the request of Syrian President Bashar Assad.