Hannibal Gaddafi was charged on Monday for concealment of information regarding circumstances surrounding the disappearance of Musa al-Sadr, an Iranian-Lebanese Shiite cleric and politician who went missing in 1978 during an official visit to Libya, according to AFP.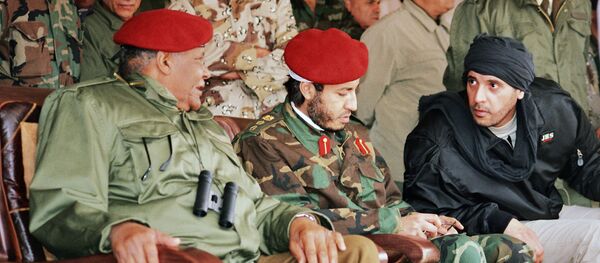 11 December 2015, 20:34 GMT
On Friday, Gaddafi was reportedly kidnapped in the Bekaa valley on the border with Syria under mysterious circumstances and later freed by Lebanese police.
The Libyan businessman was reportedly visiting his wife, Lebanese citizen Aline Skaf, at the time of the kidnapping.
Gaddafi, 40, is the fifth son of the former Libyan leader and his second wife, Safia Farkash. Hannibal fled Libya's capital of Tripoli in 2011, along with other members of the Gaddafi family, after his father's government was overthrown by NATO-backed rebel groups. Hannibal was later granted political asylum in Oman.
Syria regards the son of the late Libyan leader as a political refugee and requested Beirut free him, a plea denied by Lebanese authorities on Wednesday, AFP reported.