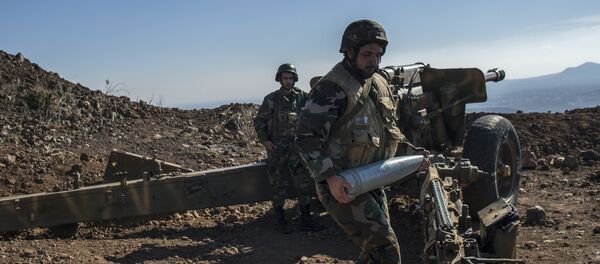 17 December 2015, 05:48 GMT
In a rare opportunity, CNN correspondent Matthew Chance travelled to the Hmeymim airbase in Latakia, Syria, where he witnessed the 'relentless regularity' with which the Russian warplanes took off from Hmeymim airbase in Latakia in northwestern Syria to target Daesh positions.
"Several times an hour, the base reverberates with the roar of fighter jets taking off to pound jihadists and support the ground forces of Syrian President Bashar Assad," according to Chance.
He referred to figures provided by the Russian Defense Ministry, which detail the Russian warplanes' activity in Syria in the past twenty-four hours, and which "give some sense of the intensity of Russia's air war."
"Fifty-nine combat missions. Two hundred and twelve targets struck. Three hundred and twenty ISIS militants killed. And more than 100 oil facilities destroyed," Chance said. 
He also quoted a Russian Defense Ministry official as saying that the results of Russia's almost three-month-old air campaign in Syria speak for themselves.
According to the official, Russia has managed to substantially degrade the capabilities of Daesh and other terror groups, including the al-Nusra Front, in Syria since the end of September, when Russia's air campaign was launched.
"The progress of such groups in acquiring Syrian territory has been stopped in its tracks by Russia's air war," Chance cited the official as saying.
In this vein, the official pointed to the efforts by the so-called Western coalition led by the US, which kicked off its air strikes in Syria in September 2014 and which failed to prevent militant groups from seizing more areas since that period.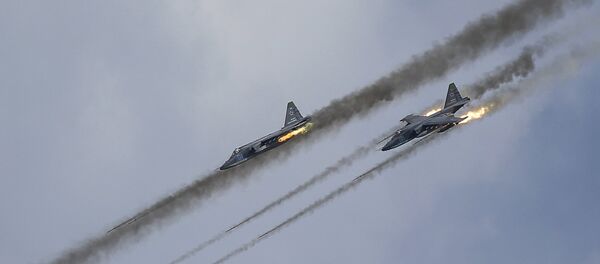 16 December 2015, 12:55 GMT
On September 30, more than fifty Russian warplanes, including Su-24M, Su-25 and Su-34 jets, commenced precision airstrikes on Daesh targets in Syria at the behest of President Bashar Assad.
Earlier that day, the Russian upper house of parliament unanimously supported the request of President Vladimir Putin to deploy units of the Russian Aerospace Forces abroad. Syrian Ambassador to Russia Riad Haddad confirmed that Syrian Army strikes, supported by the Russian Aerospace Forces, were being carried out against armed terrorist organizations, not political opposition factions or civilians.