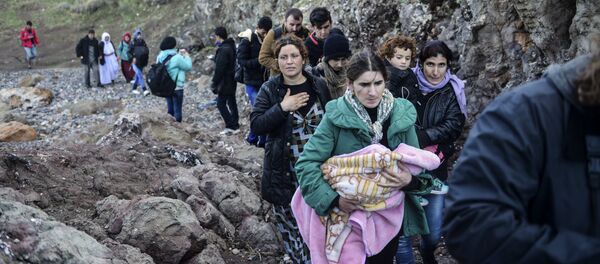 18 December 2015, 00:54 GMT
MOSCOW (Sputnik), Svetlana Alexandrova
–
A UN Security Council Resolution to counter the financing of terrorism, targeting in particular Daesh, an organization outlawed in a number of states including Russia, was adopted Thursday. The resolution specifies that Daesh derives its main source of income from smuggled oil and obliges all states to oppose this illicit oil trade in the strongest terms. Russian Ambassador to the United Nations Vitaly Churkin said that Turkish companies found to be involved in this illicit oil trade might be sanctioned by the UN Security Council.
"Europe needs to impose sanctions against Turkey and Saudi Arabia instead of extending sanctions against Russia," Salvini said.
Salvini added that his party does not believe that the Islamic coalition against extremists that was announced by Saudi Arabia earlier this week "will serve its alleged goals because it is the state that supports terrorism."
Daesh controls large swathes of land in oil-rich Syria, Iraq and Libya. Earlier this month, the Russian Defense Ministry presented evidence showing that Daesh has been smuggling oil across the porous Syria-Turkey border in large volumes.
Salvini is currently in Moscow and is set to meet on Friday with the head of Russia's upper house of parliament's International Committee, Alexei Pushkov, Deputy Chairman of the Federation Council Committee on International Affairs Andrey Klimov, as well as with the representatives of the United Russia Party.