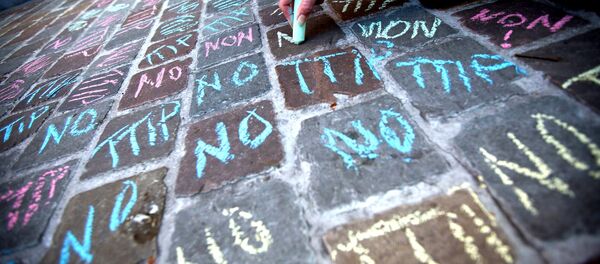 15 December 2015, 14:47 GMT
NAIROBI (Sputnik) — A failure to find consensus between the developed and developing countries at a WTO conference will result in the EU and US reinforced efforts to conclude mega-regional agreements, such as the Transatlantic Trade and Investment Partnership (TTIP) free trade pact and the Trade in Services Agreement (TiSA), favoring corporate interests, the head of policy and campaigns at a London-based Global Justice Now organization said Saturday.
"It is not that the WTO [World Trade Organization] is failing. It is that developed and developing countries do not agree on the priorities for global trade. As a result, the EU and US will redouble their efforts to negotiate dangerous regional trade agreements, such as TTIP and TiSA," Polly Jones told reporters at the WTO ministerial conference in Kenya's Nairobi.
According to her, these deals give more power to corporations at the expense of people and the planet.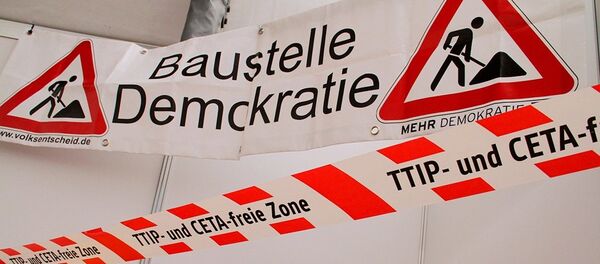 11 December 2015, 21:18 GMT
"I came wanting to see action to address longstanding injustices on agriculture for developing countries. These have not been addressed and a new agenda on issues previously rejected by developing countries, such as investment and procurement, looks set to begin," Jones stressed.
TTIP, TiSA and the Trans-Pacific Partnership (TPP) are three trade deals that seek to deregulate trade between the United States and most of the world's economies.
The US-promoted accords have come under heavy criticism for secretive negotiations between partner countries and resultant concerns for dumping health, national sovereignty and employment regulations in favor of corporate profit.