VLADIVOSTOK (Sputnik) – According to Putin, in many Eastern European countries, "[anti-] Russian propaganda and politics has become a factor in internal political struggle."
"As I said, these vestiges of the Cold War, of the past, they don't allow to move forward. Europe has expanded to include Eastern European countries, which have always eyed… the Soviet Union with great suspicion… and [this attitude] has shifted to modern Russia," Putin said.
Such inflation of anti-Russia sentiments "is very harmful and counterproductive," the president said.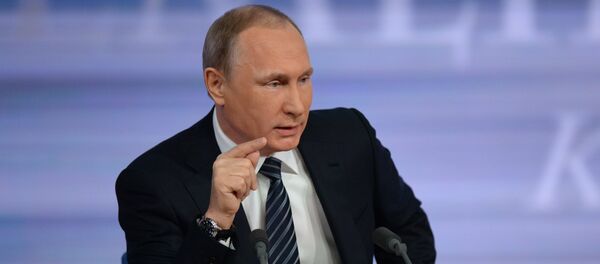 20 December 2015, 11:01 GMT
Russia's relations with Europe have been strained since the start of fighting in eastern Ukraine in early 2014. Europe has accused Moscow of interference in Ukraine's internal affairs, while Russia has repeatedly denied the allegations, asserting instead its desire for a diplomatic settlement to the conflict and noting its contribution to the Ukrainian peace process.
Speaking at the 9th Europe-Russia Forum in the EU Parliament in late November, Russia's envoy to the European Union Vladimir Chizhov said that the West's anti-Russia campaign recently reached unprecedented proportions.