Daesh currently controls one-fifth of Libya and has between 2,000 and 3,000 active fighters, according to Kader Abderrahim from the Center for Strategic and International Studies, a US-based public policy institution.
After the death of Muammar Gaddafi, Libya descended into chaos. Various shades of Islamic extremists and militants took over the country in a free-for-all brawl, forcing members of the former government retreat into the remotes cities of Tobruk and Beida.
The situation in Libya is "without a doubt, one of the main issues during the upcoming months," French Prime Minister Manuel Valls said, according to Le Huffington Post.
Under such circumstances, Libya, especially the southern part of the country, became the "incubator of terrorism, a place where it's growing and developing," said General Jean-Pierre Palasset, who took the command of Operation Barkhane, an ongoing French anti-terrorist operation in Africa's Sahel region.
"This [the rise of Daesh in Libya] would weaken and destabilize a number of [neighboring] states," the French general said, as cited by Le Huffington Post.
Gaddafi Should Have Stayed in Power
Colonel Gaddafi knew the peculiarities of his country and was able to maintain internal stability in Libya. A unified Libya no longer exists and there's the danger of tribal and clan wars between various militia groups, which could have serious consequences for the entire region, the author of the Le Huffington Post article said.
NATO intervention into Libya against the government of Gaddafi will remain as France's worst strategic foreign policy mistake, d'Auzon said, citing the words of renowned French journalist Renaud Girard.
Gaddafi might not have been the most pleasant or rational leader, but he certainly wasn't an enemy of France. On the contrary, Gaddafi made several of favors to France. First of all, he pushed terrorism out of Libya and vigorously persecuted Islamic extremists.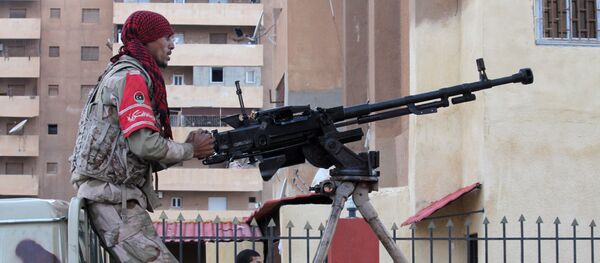 19 December 2015, 08:51 GMT
Second, he rejected weapons of mass destruction and revealed the nuclear plans of Pakistani engineer Abdul Qadeer Khan, working on nuclear proliferation. And finally, he stomped the illegal channels of human traffickers, transporting people from Central Africa to the Mediterranean Sea and then further to Europe, d'Auzon said.
Now with Gaddafi gone, the situation in Libya is becoming dangerous and risks spiraling out of control. Several foreign powers are already involved in the conflict, supporting various sides in the ongoing Libyan conflict. Turkey and Qatar support the current regime in Tripoli, [North] Sudan is suspected of supplying weapons to Daesh and Muslim Brotherhood fighters. Meanwhile Egypt is arming the forces of the international-recognized Libyan government in Tobruk to protect its own national interests.
All of this chaos helps Daesh to grow stronger, expanding territories under its control, d'Auzon said.
In this perspective, the Libyan authorities are willing to cooperate with Russia in the fight against Daesh should Moscow begin a military operation in Libya.
"We'd like to see Russia starting a fight against Daesh. Our government is ready to coordinate with [the Russians] at a highest level," said Abdullah al-Thani, the head of the international-recognized Libyan government in Tobruk.