Washington and NATO's interference in Ukraine's domestic affairs has become a disaster for the population of once a sovereign state: the country's economy is in tatters, Crimea split off from Ukraine, and Ukraine's eastern regions do not want to follow Kiev's neo-fascist agenda, according to New York-based geopolitical analyst Ulson Gunnar.
"The halls of Ukraine's government have of late become notorious for outrageous scenes of violence and disorder altogether locked in absolute dysfunction, incompetence and inaction. While many of the scenes making headlines in recent months may appear comical to outsiders, the world should note that the lives of millions are subjected to the decisions (or indecision) of these politicians," Gunnar notes in his latest article for New Eastern Outlook.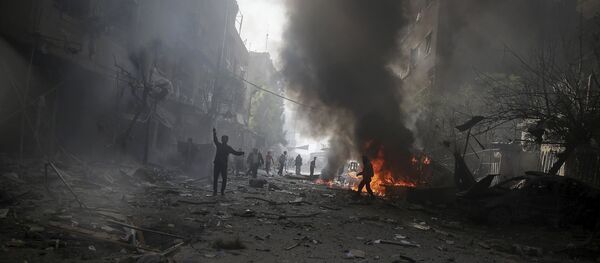 20 December 2015, 18:21 GMT
An idea that one politician would attempt to pick up and physically remove the prime minister from his podium sounds absurd for sane policymakers both in the West and in the East. However, such a scenario is possible in Ukraine.
And it has not been the only time when such an outrageous incident occurred in the government of Ukraine.  The world has recently witnessed an awkward squabble between Ukrainian Interior Minister Arsen Avakov and ex-Georgian president Mikheil Saakashvili, that provoked Avakov to throw a filled glass of water at his opponent.
"It seems in NATO's new Ukraine, all of Eastern Europe is one big happy family/front with which to fight Russia, and the norms that generally govern national sovereignty and those allowed to lead one's nation have been shown the door, together with dignity and statesmanship," Gunnar remarks.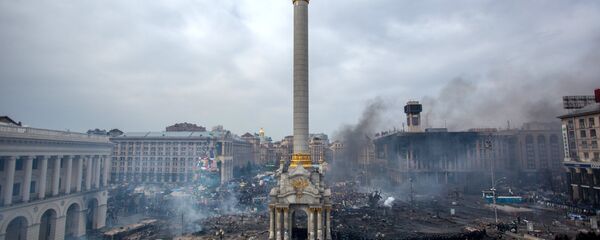 21 December 2015, 12:08 GMT
It has become a tradition in Ukraine, that Washington's policymakers visit the country to lecture the parliament.
For instance, US Vice President Joseph Biden has recently traveled to Ukraine to give a few recommendations to the Ukrainian policymakers on how to run the state and get rid of corruption.
Given the fact that Biden's son Hunter was appointed as a director in Ukraine's Burisma gas company, there are no doubts that the US Vice President explained to the Ukrainian parliamentarians what exactly abuse of power, nepotism and corruption are.
"For a Ukraine that claims it overthrew an elected government to escape Russian 'domination,' one now must question that decision seriously as clearly Ukraine is now under NATO domination," Gunnar underscores.
The example of Ukraine is a warning for others, the geopolitical analyst stresses.
There are many countries the US and NATO are wooing. However, considering what has happened to Ukraine, it will likely take coups, terrorism, NATO-backed ultra-nationalist movements and blatant coercing to engage them in the Alliance.