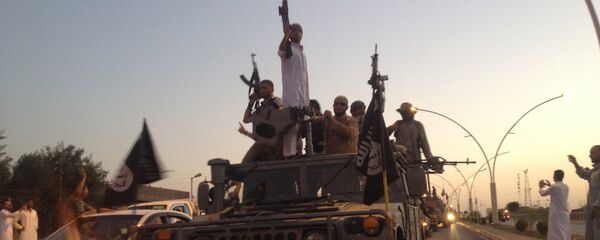 22 December 2015, 16:32 GMT
A Sputnik Türkiye correspondent managed to record an interview with a member of Daesh (Islamic State) who was captured by Kurdish troops in Syria. The 24-year-old Mahmut Ghazi Tatar who joined Daesh from the Turkish city of Adıyaman.
Mahmut Ghazi joined Daesh after being influenced by a friend who had joined the group earlier. He, together with 27 other Turks, was helped to cross the border into Syria where he joined the ranks of the militants.
"After crossing border we were moved to a training camp 5 km from the border. We received military training and attended religious classes. Before the start of training, each of us was asked whether we want to be martyrs. I refused. This question is asked of all new recruits. Those who agree, within 6 months receive special religious training. Since I refused, my education and training lasted 70 days. We learned by the Turkish books. During the training, a few people from Turkey came to check on us. They did not have beards and they were not members of Daesh," Mahmut Tatar told Sputnik Turkiye during an interview.
After receiving their training the 27 members who were all Turkish were sent to the city of Tel Abaid where they lived in houses and where their training continued. Their names were kept secret and they were not allowed to contact their families for a period of six months.
Talking about how he was caught by Kurdish soldiers, Ghazi said that upon receiving warning of the presence of Kurdish soldiers from other Daesh members he and 12 other group members ran away from Tal Abaid. They were hiding in a nearby village. But the next morning when Ghazi tried to make a run for it he was caught.
© Sputnik / Hikmet Durgun
Fighter from the al-Qaida linked Islamic State of Iraq and the Levant (ISIL)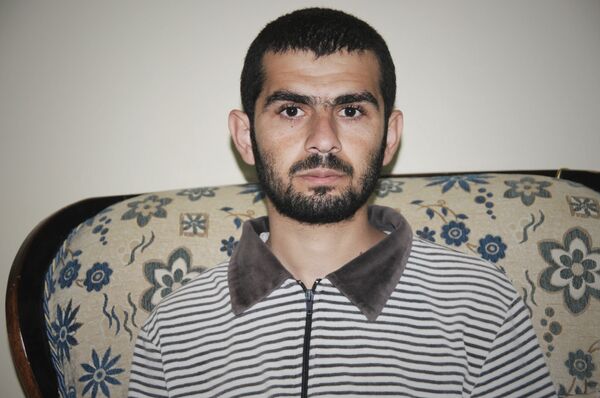 Fighter from the al-Qaida linked Islamic State of Iraq and the Levant (ISIL)
© Sputnik / Hikmet Durgun
"Kurds treat prisoners well, they feed them, give water and even cigarettes. I was kept in this room along with several other people. I did not think that they will treat me so well, I was afraid of torture. I thought we would be killed, but it turned out that the Kurdish troops do not kill captives. I heard that Daesh when being captured by Kurds are either killed at once or are kept alive to make prisoner exchange with the Kurds."
Talking about what he heard from his commander the captured member revealed that during his training camp in May 2015, one Daesh commander Abu Talha told them that the group sells oil to Turkey. According to Abu Talha, the money that was raised from sale of oil in Turkey helped Daesh resolve all financial difficulties.
"The oil tankers that were sent every day to Turkey had crude oil, fuel oil and gasoline. The main source of income for Daesh is oil trade and oil inventories will last them a long time."
"Abu Talha also said that the group earns a lot of money in trade with Turkey. He also said that the oil is sold through the mediation of a number of businessmen and merchants, but did not give names. Daesh also receives many products from Turkey and other Arab countries," Mahmut Ghazi revealed.
He mentioned that his commanders did not attach particular importance to the US bombings. They believed that it was done as a pretense.
One of the militants asked the commander why Daesh was not fighting against Israel. Abu Talha said: "First we need to break down a small wall and then destroy the large one."
According to the captured member most new recruits joined the group from Saudi Arabia, Tunisia, Yemen, Qatar, Lebanon and Egypt. They crossed the Turkish border, which is very simple to do. The fighters from Europe and America follow the same route.
"The commanders told us that they were going to commit a terrorist act that would exceed the scale of the September 11 attacks on the US," Mahmut Ghazi concluded.