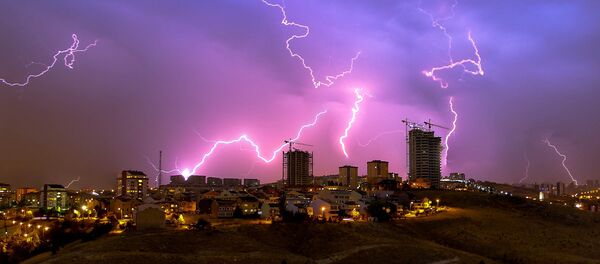 21 December 2015, 15:41 GMT
Ankara is waging war on two fronts, being involved in the "cold war"-style confrontation with Moscow on the international level and waging "hot war" against the Kurdistan Workers' Party (PKK) on its own territory, journalist Kadri Gursel wrote for Al-Monitor.
According to the author, Turkish actions may lead to a situation when PKK would receive more support from the outside, particularly, from Russia. The union of two of Turkey's opponents would be a logical outcome, which will, however, pose a serious security challenge to Ankara.
"Turkey has refused to change its Syria policy, while at the same time piling pressure on the PKK by escalating the war in the Kurdish-majority southeast. The more the pressure grows, the higher the possibility of the PKK gravitating toward Russia," the author wrote.
Thus, the end of the "cold war" with Russia is a key point for the internal stability of Turkey, but the normalization of relations between Moscow and Ankara is almost unreal, the journalist argued. In this case, the Turkish President would have to make his apologies to Russia and compensate the damage of the attack on Russia's Su-24 fighter jet, conditions without which the reconciliation between the two countries would be impossible.
"Agreeing to these demands would amount to a humiliating defeat for Erdogan, given that Ankara has said that the jet was downed for violating Turkish airspace and that it will never apologize for that," Gursel wrote.
Relations between the two countries deteriorated after a Russian Su-24 aircraft was brought down by an air-to-air missile fired from a Turkish F-16 fighter on November 24 over Syria. Ankara claimed that the Russian aircraft violated Turkish airspace, but Russian and Syrian defense officials said that the Su-24 was illegally downed over Syria.
According to the columnist, the state of the "cold war" enables Russia to exert economic and political pressure on Ankara. Therefore, it remains unclear how long Erdogan will be able to remain in a state of "cold" confrontation with Russia and "hot" war against the Kurds, while preventing the unification of the two opponents into a joint anti-Turkish bloc, the journalist concluded.